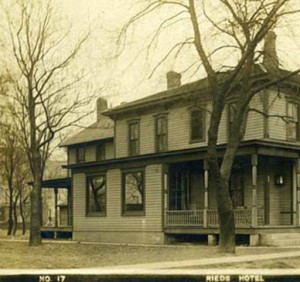 In this post about Nebraska Memories, I'd like to focus on a collection of photographs from Valley, Nebraska.
The Friends of the Valley Public Library have digitized and described a collection of photographs depicting businesses and members of the local population between the late 1800s and early 1900s in Valley.
The picture to the left is Reid's Hotel, located at Front and Rine Streets in Valley, Nebraska. It was later sold and renamed the Fitz Hotel. The third owner, Mrs. Connie McKee, renamed the building McKee Hotel and Apartments.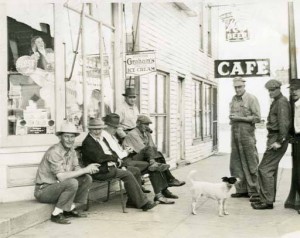 The picture from 1920's Valley to the right is the Seefus Tavern and confectionary store.  Taken on the sidewalk in front of businesses on the west side of Spruce Street, this black and white photograph shows eight locals and a dog sitting and standing in front of the business.
This black and white photograph shows flooded streets with houses in a distance. Flood waters up to four-feet deep surged through Valley, Nebraska on March 30, 1912, leaving homes full of mud and silt.
There are many more pictures of Valley businesses and the 1912 flood in Nebraska Memories.  Be sure to take a look!
Visit Nebraska Memories to search for or browse through many more historical images digitized from photographs, negatives, postcards, maps, lantern slides, books and other materials.
Nebraska Memories is a cooperative project to digitize Nebraska-related historical and cultural heritage materials and make them available to researchers of all ages via the Internet. Nebraska Memories is brought to you by the Nebraska Library Commission. If your institution is interested in participating in Nebraska Memories, see Participating in Nebraska Memories for more information, or contact Devra Dragos, Technology & Access Services Director.