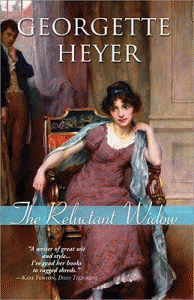 This past week, I was looking for comfort reading while I was home with a bad cold. I suppose everyone has their own requirements for a good comfort read.  For me, that's almost always an old friend—a book that I've enjoyed before.  And if I've enjoyed the book previously, then the unfolding of the plot and the building of suspense aren't so important as
how
those things happen, so language, the setting, and the way the author discloses details become more important.  Humor is good—and a good-humored outlook is essential.  The characters are important—I want to visit with friends. Georgette Heyer fills the bill. Ms. Heyer had a long career, writing over 50 novels, a few historicals, some contemporary mysteries, and many titles in the genre she is best known for, the Regency romance.  Many of her Regencies include elements of mystery or suspense (e.g.
The Toll-Gate
.)  All include a lot of accurate period detail (
An Infamous Army
includes a recounting of the Battle of Waterloo and has a formidable bibliography.)  Most important, the books are full of witty banter, attractive characters, and
fun
.  Ms. Heyer herself once said "I think myself I ought to be shot for writing such nonsense, but it's unquestionably good escapist literature; & I think I should rather like it if I were sitting in an air-raid shelter, or recovering from flu."
The Reluctant Widow
starts with a "meet cute" that's tough to swallow, but Ms. Heyer brings it off. Elinor Rochdale, a lady fallen on hard times, travels to take up a post as a governess and finds herself, by mistake, at the home of Lord Ned Carlyon, who was expecting a woman who had agreed to marry his dissolute cousin, Eustace Cheviot, so that Ned could avoid inheriting Eustace's estate. The situation is desperate as word comes that Eustace has been fatally wounded and lies dying.  Elinor is convinced against her better judgment to marry and becomes a widow overnight.  After that, a stolen secret memorandum, a dog named Bouncer, and a midnight intruder keep the book moving along briskly.  And since it says right on the cover of the book that it's a Romance, "will Elinor and Ned get together in the end?" is not really a question. The book is almost 70 years old, but its charm is still fresh and engaging. Readers of Romance, Historical fiction, or even Napoleonic War buffs might enjoy it.  A number of Georgette Heyer's books are available through Nebraska OverDrive.