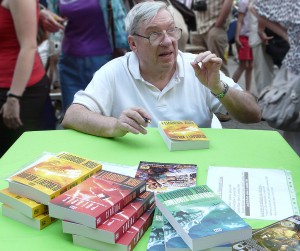 SF author, and recent entry in the Commission's
Friday Reads
, Jack McDevitt is being honored this year.
Jack McDevitt, science fiction author is the 2015 winner of the Robert A. Heinlein Award. The award is bestowed for outstanding published works in science fiction and technical writings that inspire the human exploration of space. This award is in recognition of Mr. McDevitt's body of work including over 21 novels and 81 short stories. The award will be presented on Friday, May 22, 2015 at opening ceremonies during Balticon 49, the Maryland Regional Science Fiction Convention. Balticon and the Robert A. Heinlein Award are both managed and sponsored by The Baltimore Science Fiction Society. A grant from the Heinlein Society funds a quarter of the costs associated with the award.
Read the full article @
SF Signal.