"And when the votes are counted you will never know they ran". At least that's what James Asher Parks wrote back in 1908 in the campaign song "Holding Hands". Here's the complete second verse:
 "Willie Hearst* and Billy Bryan* tried to play a little game, "Holding hands," Parker too, and poor old Davis likewise tried to do the same, "Holding hands," The candidates they're running all are "three-spots" to a man, And when the votes are counted you will never know they ran, You will find them all a standing just about where they began, "Holding hands!""
I think Mr. Parks might be correct. I knew who Willie Hearst and Billy Bryan were but I must admit I had no idea who Parker and Davis might be. After a quick search I believe he is referring to Alton B. Parker and Henry G. Davis. Alton Parker ran for president in 1904 and Henry G. Davis was his vice-president candidate. As you may know Parker lost that election to Theodore Roosevelt.
"Holding Hands" is just one of twenty-four songs that appear in "Park's Republican campaign songs". This book of scores was written by James Asher Parks who was a famous composer and publisher from York Nebraska. "Holding Hands" can be found on page 25. Many of the other scores in this book made me laugh and others made my cringe. I never realized how nasty politics were in 1904.
As you were reading the lyrics above you may have noticed the asterisks after Hearst's and Bryan's names. Asterisks like these appear throughout this book. The footnote that goes along with these asterisk states: "Use name of any Democrat desired." Mr. Parks included an announcement at the front of the book letting folks know that because of the "early demand for Campaign music" these songs were written before the presidential candidates were officially announced. He went on to say that any candidates name could be substituted and "As a rule, any name of two syllables will serve the purpose." He also stated that folks should "Commit the words and music to memory before rendering and sing with VIM and VIGOR."
The song "Holding Hands" was clearly a song for the opponents of William Bryan to sing. To be fair I also wanted to point out two scores that support William Bryan. The first one is "Bryan's Democratic success march" written by George Maywood (also known as George Schleiffarth). Unfortunately there's not much to say about this score since it has no lyrics. The other song written in support of Bryan is called "Line up for Bryan".  It was written by Nebraska Lawyer and politician George W. Gale. This song does include lyrics.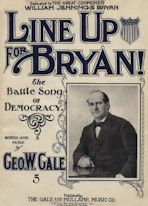 "We are marching on to victory There's music in the air, We'll place our gallant leader in the presidential chair We are ready for the battle now we're waiting for the day We'll fall in line for Bryan boys Hip Hip Hooray."
I hope you enjoyed this break from modern day politics and were amused by politics of the past. Do you think after the votes are counted and a hundred or so years pass that folks will remember who ran and lost today's election?
Visit Nebraska Memories to search for or browse through many more historical images digitized from photographs, negatives, postcards, maps, lantern slides, books and other materials.
Nebraska Memories is a cooperative project to digitize Nebraska-related historical and cultural heritage materials and make them available to researchers of all ages via the Internet. Nebraska Memories is brought to you by the Nebraska Library Commission. If your institution is interested in participating in Nebraska Memories, see http://nlc.nebraska.gov/nebraskamemories/participation.aspx for more information, or contact Beth Goble, Historical Projects Librarian, or Devra Dragos, Technology & Access Services Director.