After reading about the experiences of public librarians at the service desk I was amazed at the situations they were put through and how well they handled the patrons. I thought maybe some of the following might be helpful as refreshers as well as sources of new ideas for handling situations.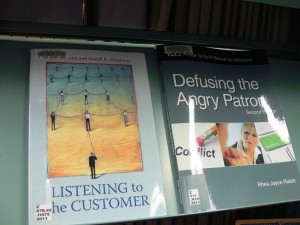 Coming up this month is the free Big Talk from Small Libraries Conference, offered online  February 28, 2012.  It's about big things from small libraries, such as the following programs:"Gaming and Game Collection Development", "Community Partnerships", and "Training the Public" This conference was organized and is hosted by Michael Sauers and Laura Johnson of the Nebraska Library Commission and is co-sponsored by the Association for Small & Rural Libraries and Library Renewal.
As always,–please contact the Information Services Team if you'd like to check out any of these titles. Thanks.