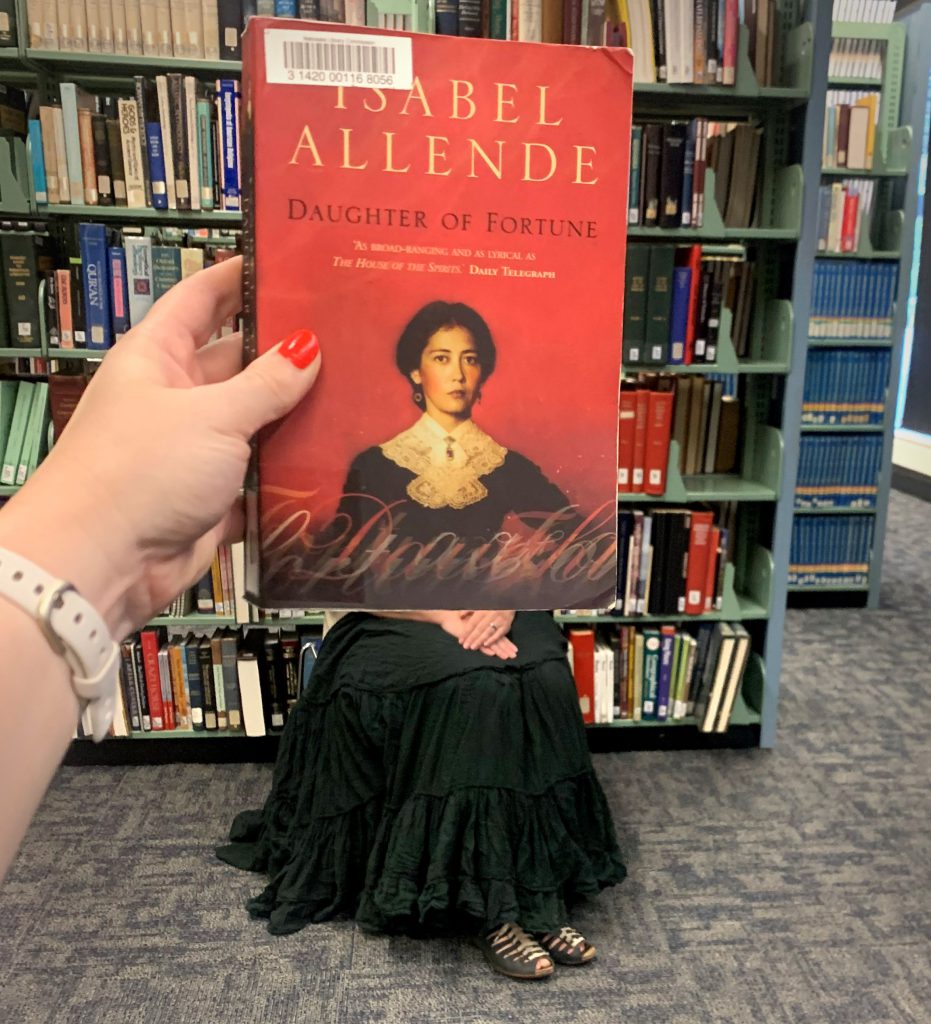 This #BookFaceFriday is written by one of the many talented authors we are celebrating during National Hispanic American Heritage Month (September 15- October 15), Isabel Allende. Set against the backdrop of the 1849 gold rush in California, Daughter of Fortune (Harper Collins, 1999) is available as a Book Club Kit, as well as an audiobook in Nebraska Overdrive Libraries. You can find many more of Allende's works as ebooks and audiobooks in Nebraska Overdrive Libraries, as well as all of our curated Hispanic Heritage Month collection titles.
"Until Isabel Allende burst onto the scene with her 1985 debut, The House of the Spirits, Latin American fiction was, for the most part, a boys' club comprising such heavy hitters as Gabriel García Márquez, Jorge Luis Borges, and Mario Vargas Llosa. But the Chilean Allende shouldered her way in with her magical realist multi-generational tale of the Trueba family, followed it up with four more novels and a spate of nonfiction, and has remained in a place of honor ever since. Her sixth work of fiction, Daughter of Fortune, shares some characteristics with her earlier works: the canvas is wide, the characters are multi-generational and multi-ethnic, and the protagonist is an unconventional woman who overcomes enormous obstacles to make her way in the world. Yet one cannot accuse Allende of telling the same story twice; set in the mid-1800s, this novel follows the fortunes of Eliza Sommers, Chilean by birth but adopted by a British spinster, Rose Sommers, and her bachelor brother, Jeremy, after she is abandoned on their doorstep."

– Margaret Prio, Oprah Book Club
Book Club Kits Rules for Use
These kits can be checked out by the librarians of Nebraska libraries and media centers.
Circulation times are flexible and will be based upon availability. There is no standard check-out time for book club kits.
Please search the collection to select items you wish to borrow and use the REQUEST THIS KIT icon to borrow items.
Contact the Information Desk at the Library Commission if you have any questions: by phone: 800/307-2665, or by email: Information Services Team
Love this #BookFace & reading? Check out our past #BookFaceFriday photos on the Nebraska Library Commission's Facebook page!