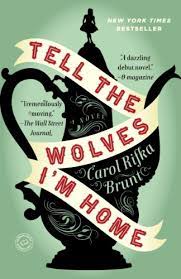 This year's theme for the 35th Annual World AIDS Day was Remember and Commit, which "pays tribute to those we have lost to HIV/AIDS and emphasizes our collective responsibility to act to end the HIV epidemic."
Today's Book Club Spotlight, focuses on Remembering, by taking us to what could be considered the epicenter of the early AIDS crisis- 1987 New York City. Carol Rifka Brunt's debut novel
Tell the Wolves I'm Home
was named "One of the Best Books of the Year" by The Wall Street Journal, and also has the distinction of winning the
Alex Award
in 2013. The Alex Award is presented by the Young Adult Library Services Association to adult novels that have a special appeal to young adults. Spotlight alumnus
I'm Glad My Mom Died
has also received this award.
Just north of New York City, June Elbus, a romantic at heart, often disappears into the woods after school to pretend she is living in the Middle Ages, wearing medieval boots specially bought by her beloved uncle and famous artist Finn Weiss. June knows Finn is gay; everyone does. But after his death from AIDS, she learns he also had a partner, Toby—the man who is blamed for Finn's death. In the months that follow, June is torn between jealousy, love and fear, as she forges an unlikely (and secret) friendship with Toby. Reconciling how much of her uncle she really knew until the lines between Toby and Finn begin to blur until she can't see where one ends and the other begins. All the while, June's older sister, Greta, slowly loses herself amid attempts to reconcile their strained relationship. But the secrets between the two sisters are overwhelming and become too much for them to overcome on their own. Not until they start to talk through Finn's final painting.
Tell the Wolves I'm Home revels in the language of art, which often goes hand in hand with the Queer experience, and especially the HIV/AIDS Crisis. From Finn and June's bonding over Mozart's unfinished Requiem, to Greta starring in the school's production of South Pacific. The novel uses art and and illness to focus on the absurdity and fear surrounding prejudices and danger they can put people in. Taking place only a few years after the first case of HIV/AIDS was reported, not much is known about the disease, and public panic and demonization of suffering gay men was at an all-time high. Brunt spends a large portion of her book delving into this fear and the vice it had on the public conscience. June's family loves Finn, but fear turns them to avoiding him, even as they can see him deteriorating before their eyes. Especially for readers who have memories from or connections to the initial HIV/AIDS epidemic of the 1980s, Tell the Wolves I'm Home is a great novel for adult Book Club Groups (or mature teens) to discuss prejudices and how they hold up to a modern lens.
 And for a fitting multimedia experience, I recommend:  
Art:
Music:
If you're interested in requesting Tell the Wolves I'm Home for your book club, you can find the Request Form here. There are 5 copies and 1 Large Print available. (A librarian must request items)
Brunt, Carol Rifka. Tell the Wolves I'm Home. Dial Press. 2012.