Happy #BookFaceFriday to all the young readers out there!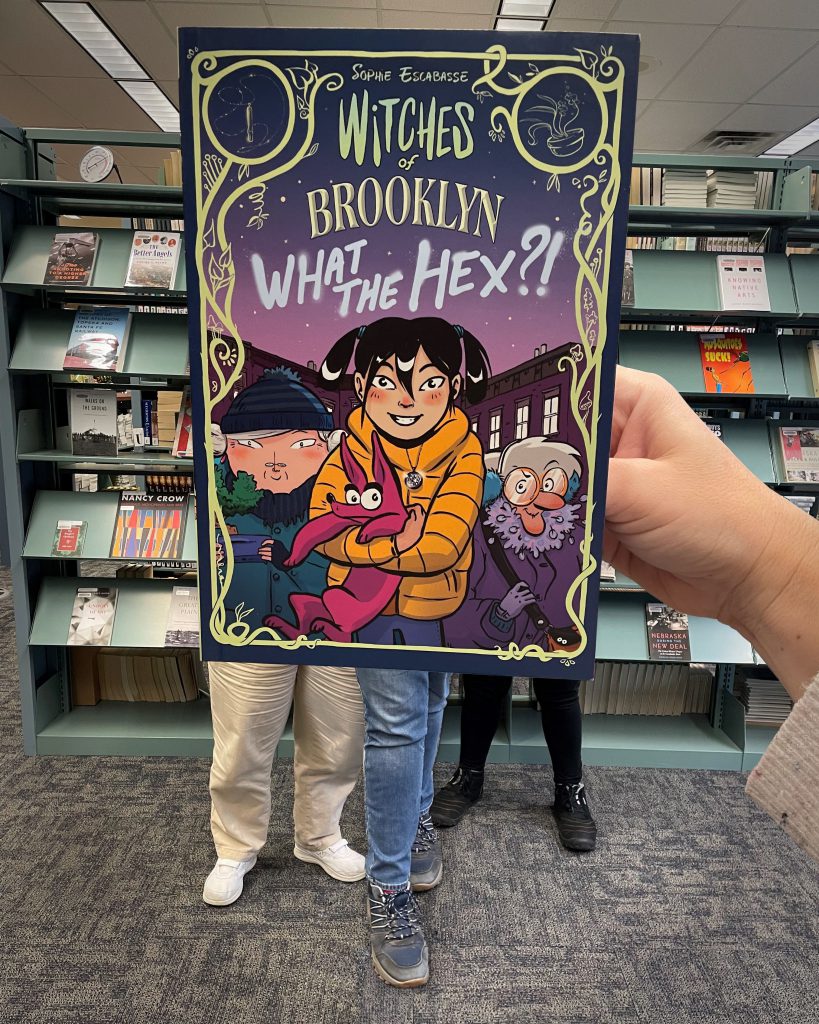 No matter the book, whether it's about Christmas, Hanukkah, or Halloween, we want it for our annual Children/YA book drive! Just like one of this year's donated books, "Witches of Brooklyn: What the Hex?!: (A Graphic Novel)" written and illustrated by Sophie Escabasse (Random House Graphic, 2021.) Anyone and everyone are welcome to drop off donated books. We need them by the end of the day TODAY, so we can deliver them to the Salvation Army tonight. Every year, for the last 30+ years, Nebraska Library Commission staff collect new or gently used books for children and teens to be donated to the People's City Mission and the Salvation Army for their Christmas giveaway for youth in need. The books come from all over. Brought from homes, bought new in stores, or purchased at thrifting excursions, Lincoln City Library's book sale, or the Scholastic Book Sale. Our models this week spearhead this program, Children and Young Adult Library Services Coordinator, Sally Snyder, and Janet Greser, who runs Computer Help Desk Support. The third model is Janet's daughter, Amanda Heier, who has been helping them get the books ready by cleaning off stickers and wiping down donated books. With her assistance, we are ready to deliver books to the Salvation Army!
"A humorous, magical romp about a modern-day apprentice witch who is struggling to be a good friend. Stellar comedic timing and whimsy galore combine in this magical friendship story."—Kirkus
Love this #BookFace & reading? We suggest checking out all the titles available in our Book Club collection, permanent collection, and Nebraska OverDrive Libraries. Check out our past #BookFaceFriday photos on the Nebraska Library Commission's Facebook page!