Knock! knock! Who's there! It's #BookFaceFriday!!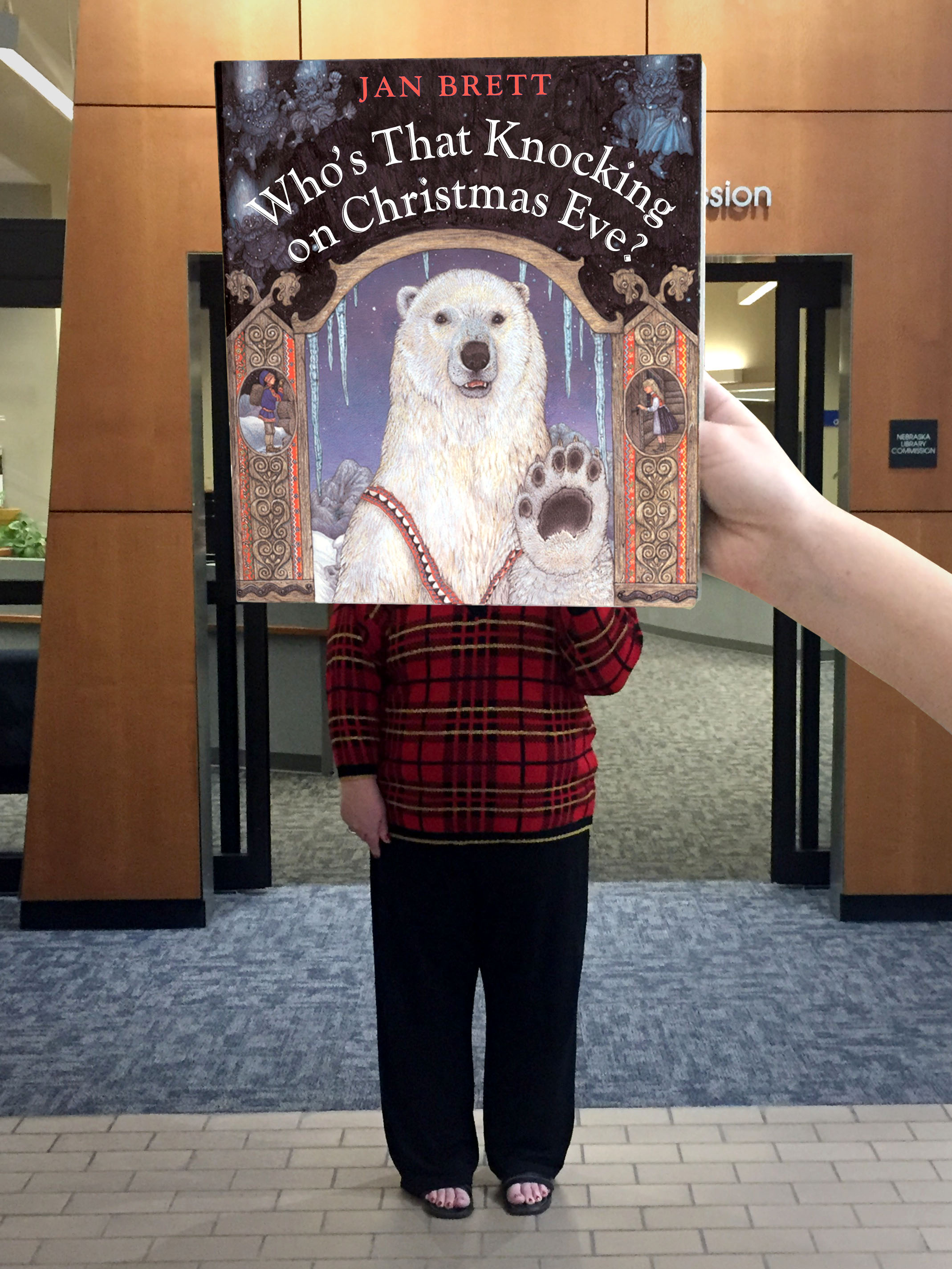 Today is the last day to deliver your donated books! Anyone and everyone is welcome to drop off donated books. We need them by the end of the day TODAY, so we can deliver them to the Salvation Army tonight. Every year, for the last thirty years, Nebraska Library Commission staff collect new or gently used books for children and teens to be donated to the People's City Mission and the Salvation Army for their Christmas giveaway for youth in need. The books come from all over. Brought from homes, bought new in stores, or purchased at thrifting excursions, Lincoln City Library's book sale, or the Scholastic Book Sale. We snatched this one out of the pile of donated books, "
Who's That Knocking on Christmas Eve?
" by Jan Brett (Scholastic, 2003). It's adorable illustrations and unique folklore made it the perfect #BookFace.
"Kindergarten-Grade 2-In this story based on a traditional Norwegian folktale, a boy traveling from Finnmark to Oslo with his pet polar bear stops by Kyri's hut on Christmas Eve. The guests help to frighten away the trolls who come to wreak havoc and steal all of the holiday treats. The pleasure here lies mostly in the lush, richly textured illustrations, with Brett's distinctive borders that incorporate Norwegian folk motifs and trolls romping through skies lit by the Northern lights. Scenery aside, the children are rather one-dimensional, but the bear is handsome and heroic and the trolls satisfyingly ugly and naughty."  -School Library Journal
This week's
#BookFace
model is quite the mama bear herself, Mary Geibel is NLC's Information Services Technician. She was also willing to wear a holiday sweater just for our #BookFace. Love this
#bookface
& reading? We suggest checking out all the titles available for book clubs at
http://nlc.nebraska.gov/ref/bookclub
. Check out our past
#BookFace
photos on the
Nebraska Library Commission's Facebook
page!