Tag Archives:
Willa Cather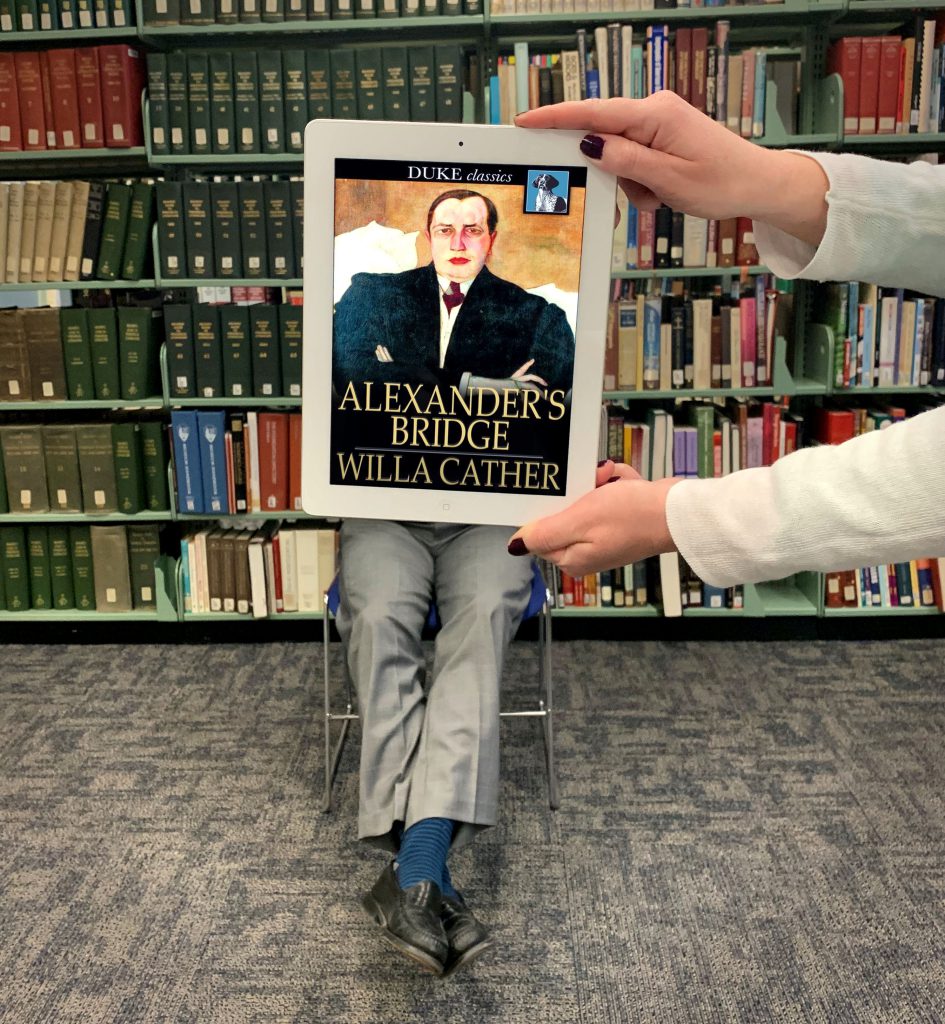 You know all those classics you always have to lie about having read? Well now's your chance to really read them! Nebraska OverDrive Libraries just added a huge selection of classic novels, 1,010 classics including this week's #BookFaceFriday! "Alexander's Bridge" (Duke Classics, 2012) by Willa Cather just one of many Cather titles available to all Nebraska OverDrive Libraries in eBook and Audiobook format. 173 libraries across the state share this collection of 16,670 Audiobooks and 28,473 eBooks, with new titles added weekly. As an added bonus it includes 130 podcasts that are always available with simultaneous use.
If your library is a part of it, ask your librarian for more information about participating in Nebraska Overdrive Libraries!
From the book jacket

"Construction engineer and world-renowned bridge builder Bartley Alexander has everything in mid-life: wealth, good looks, and fame. Yet he finds himself restless and discontented with life—until he meets a former love from his student days and resumes his relationship with her.
Living a double life, Alexander is torn between Winifred, his American wife—a cold woman with clearly defined standards—and Hilda Burgoyne, his alluring mistress in London who helps him recapture his youth and sense of freedom. Alexander's affair, which eventually gnaws away at his sense of propriety and honor, proves disastrous.
Willa Cather's first novel—a fascinating study of a man's growing awareness of the breach in his integrity—is essential reading for fans of this great American novelist."
" … exceptionally well-conceived and well written."—Outlook
" … told with a good deal of charm and skill."—New York Times Book Review
" … a story of brilliant and unusual power."—McClure's
This week's #BookFaceFriday model is Rod Wagner, the Director of NLC!
Love this #BookFace & reading? Check out our past #BookFaceFriday photos on the Nebraska Library Commission's Facebook page!
Announcing our Campaign for the Future
The Willa Cather Foundation's Campaign for the Future is a $6.5 million campaign to restore historic Cather-related historic properties, expand educational programming, develop visitor ammenities, and build endowment for the nonprofit organization devoted to the great American author.
The public phase of the campaign is being announced just one year after History Nebraska, a state agency, transferred ownership of six historic properties and about 8,000 artifacts to the Willa Cather Foundation. The state had owned the properties since 1978, but History Nebraska and the Foundation had operated the site together since 1994. It is the largest single collection of nationally-designated buildings devoted to an American author.
The Willa Cather Foundation is now raising the funds needed to restore the sites and enhance the visitor experience for tourists from forty-eight states and five countries who visit the National Willa Cather Center and Red Cloud annually.
Former First Lady of the United States, Mrs. Laura Bush is the honorary national chair for the campaign's public fundraising effort. Mrs. Bush, who spoke at the Foundation's dedication of the National Willa Cather Center in 2017, stated, "Through Willa Cather's writing, we have a better understanding of one of the most remarkable and compelling periods in American history." She continued, "The sites and collections that make up the National Willa Cather Center in Red Cloud are cultural treasures. Your generosity ensures that our children and grandchildren will be able to travel back in time to hear the 'nimble air' and learn from Willa Cather's example for many generations to come."
In addition to Mrs. Bush, writer and historian David McCullough noted, "The marvelous thing about going to Red Cloud, Nebraska, is you can walk right into Willa Cather's world. There's the house she lived in, the bank, the opera house, the railroad depot, and the landscape. It's one of my favorite places in all of America."
Campaign for the Future has raised $4.7 million or 72% of its $6.5 million goal already, with just under $2 million left to be raised. The Foundation aspires to complete the campaign by its 65th annual Spring Conference in Red Cloud this June. The 3-day event will revisit the short stories of Youth and the Bright Medusa during its centenary year. Alexander Ross, Cather champion and writer for The New Yorker, will give the keynote address.
"Nebraskans have been very generous because they know we are fortunate to be home for such an iconic author," said Ashley Olson, Executive Director. "We have had strong support from longtime friends and foundations and now hope to include individuals from across the country who appreciate Cather's literature and value our work."
Campaign funds will be used to restore eight historic properties, conserve newly acquired collection materials, expand educational programming, add exhibits, upgrade site interpretation, and invest in a downtown boutique hotel that will allow visitors to spend more time in Red Cloud. Olson said the highest site restoration priorities are Cather's Childhood Home and the Pavelka Farmstead, which is central to Cather's most celebrated novel, My Ántonia.
Adding to the success of the campaign is a Save America's Treasures grant of $415,000 from the National Park Service for restoration of the Willa Cather Childhood Home—the jewel in the crown of the Foundation's historic sites and a National Historic Landmark. The grant requires a 1:1 match in nonfederal funds.
Gifts of all sizes are welcome. To donate, send your contribution, clearly labeled Campaign for the Future to the Willa Cather Foundation, 413 N. Webster, Red Cloud, NE 68970.
###
Tuesday, January 28, 2020 | https://www.willacather.org/announcing-our-campaign-future