Years ago I read The Wizard Hunters, by Martha Wells, and waited expectantly for the rest of the series to come out, The Ships of Air, and The Gate of Gods. So after reading her more recent work (the Murderbot series), I wondered how the older series compared. It's still wonderful world building, character building, and plotting,

We meet Tremaine Valiarde at her home estate, trying to find a suitable manner of suicide. Her city, country, and world, are under attack by an unknown enemy they call the Gardier. They don't even know where on their world these people come from. The sinister black dirigibles started attacking with bombs and were protected with a magic they couldn't protect themselves from. Tremaine has been working in the war effort, risking her life in the ruins to save lives, and is so very tired. She's been put on leave by her relief group. In Tremaine's world, Ile Rien is her country, somewhat French in flavor, and set approximately the early 1900s—along with magic and wizards; there are telephones, electric lights, radios, motor cars, and guns.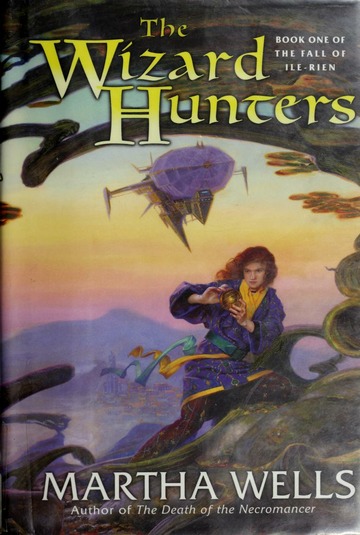 Tremaine is recruited, with a magical childhood toy, the Damal Sphere, to assist in classified work on an unknown spell left by the foremost wizard of her country, and her godfather, Damal, and Nicholas Valiard, her father, after they disappeared shortly before the war. The sphere had been copied for use with the spell, but backfired tragically. The hope is that the original will make it work correctly. It does, of course, and transports them to a different world. Where wizards are called Sorcerers and are all homicidally mad. The natives of the closest nation are Syprians, and each city is built near a magical source they call a God, which protects them from sorcerers, and their creations, curslings. It is on a small island off the Syprian coast often used by sorcerers, that the group from Ile Rien find themselves shipwrecked. A Chosen of the God, Giliad, and his foster brother Illias, are trying to check the same island for the return of a sorcerer, which is their job, to find and kill sorcerers. Instead of traditional sorcerers, they find a Gardier base. Since the technology is beyond their own level, the assume most of it is "curse" driven, (spelled), when it's actually guns, electric lights, and an air ship. But the Gardier have magic, too. The pair have never seen or heard of these people before. Syprians are well-traveled merchants, trade with other countries and groups in their world.

Tremaine is an interesting character to begin with, her father is much like a blend of Sherlock Holmes and Moriarity. Two of her guardians are wizards, and one, unknown to her until the events of the book, is one of the Queen's guard. While she herself feels a bit split about her personality—she was known as a playwright before the war, and the way she can react to threats, is commented on by her new friend, Florian, a wizard in training. She tries to keep the more menacing side of her personality hidden, as well as the strange set of talents learned from her father and his friends. However, in the situations in the series, she certainly grows to accept them, as they come in handy.

Illias and Gilead, from the Syprian mainland are also an interesting pair of men. Their civilization is a matriarchy, so property is passed through the female line, although wars are fought by both sexes. As a Chosen of the God, Gilead can sense "curses", but has more difficulty sensing the spells of the Ile Rien wizards. They both have a tragic backstory, where a sorcerer fooled them both, and cursed to death three female members of their family.

The Fall of Ile Rien series is much like potato chips—it's hard to stop at just one.