We're united in our love for this #BookFaceFriday!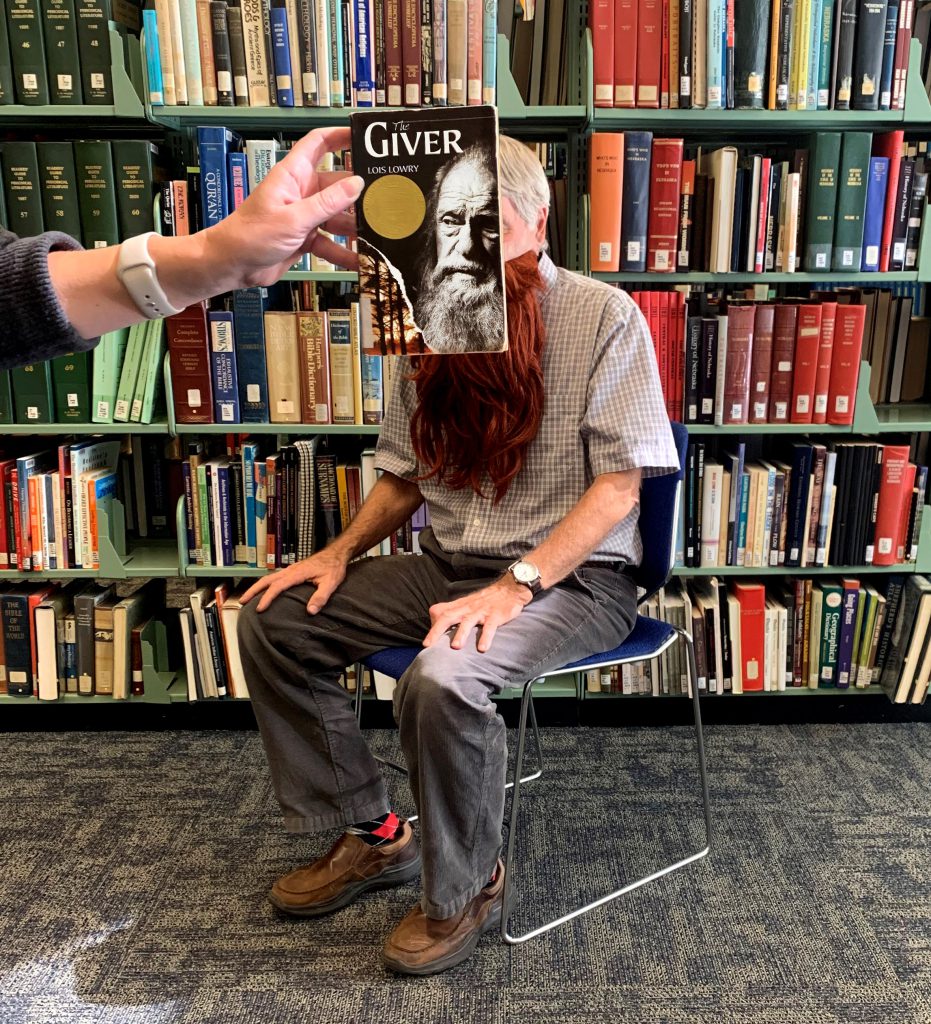 Let Freedom Read! That's the theme of this year's #BannedBooksWeek. We are celebrating with a banned #BookFace! The Nebraska Library Commission supports readers and the freedom to read so we make sure our various collections reflect that. "The Giver" by Lois Lowry (Houghton Mifflin, 1993) has been banned or challenged in the US since 1994, less than a year after it's publication, cited for "violent and sexual passages, infanticide and euthanasia." The Giver received the 1994 Newbery Medal, given for the most distinguished contribution to American literature for children. It's available as a book club kit, or as an eBook and Audiobook on Nebraska OverDrive Libraries. A book is considered challenged when calls are made for it to be banned or removed from the public's access. This is one of many banned or challenged titles NLC has available in our Book Club Kit Collection, titles like Looking For Alaska by John Green, The Absolutely True Diary of a Part-Time Indian by Sherman Alexie, A Wrinkle in Time by Madeleine L'Engle, Beloved by Toni Morrison, and the Harry Potter Series by J.K. Rowling, just to name a few.  This week's #BookFace and other banned books can be found on the NLC Book Club Kit webpage. This service allows libraries and school librarians to "check out" multiple copies of a book without adding to their permanent collections, or budgets. NLC also has several banned or challenged titles available to our Nebraska OverDrive Libraries.
"Lois Lowry has written a fascinating, thoughtful science-fiction novel. The story is skillfully written; the air of disquiet is delicately insinuated. And the theme of balancing the virtues of freedom and security is beautifully presented."

— Horn Book (starred review)
You can find more information about Banned Books Week and the fight against censorship at ALA.org/advocacy/bbooks! What are you doing to celebrate Banned Books Week? Let us know!
Book Club Kits Rules for Use
These kits can be checked out by the librarians of Nebraska libraries and media centers.
Circulation times are flexible and will be based upon availability. There is no standard check-out time for book club kits.
Please search the collection to select items you wish to borrow and use the REQUEST THIS KIT icon to borrow items.
Contact the Information Desk at the Library Commission if you have any questions: by phone: 800/307-2665, or by email: Information Services Team
Love this #BookFace & reading? Check out our past #BookFaceFriday photos on the Nebraska Library Commission's Facebook page!