Plainview Public Library used ARPA funds to add new items to its collection and show patrons the value of returning to the library!
When the COVID pandemic hit, patrons did not use the library as much. The purchase of new items and equipment show patrons all that the library has to offer. Some of these new items include a cricut maker and mug press, sublimation printer and supplies. The cricut maker and printer provide patrons with the option to make gifts, etc. in case they are low on funds due to the pandemic.
In an effort to get kids back into the library and involved in its programs, the library purchased indoor games and snap circuits, Osmo kits and a Kindle Fire to be used with the Osmo kits and breakout kits. It purchased circuit cubes robots, gears go garage and robots roll kits to be used with the LEGOS to get the kids interested in playing with the LEGOS again. Finally, the MakeDo kits to get kids creating with cardboard. The first project the children made were snowplows out of cardboard boxes.
The pandemic highlighted the importance of fresh air and sunshine. The new outside games at Plainview Public Library allows patrons to go outside and play. In addition, a vacuum was also purchased to keep the library a clean environment.
In the summer of 2022, the library hosted the LEGO Guy and Dino O'Dell to get patrons in the library and involved in its programs. This also gave community members an opportunity to get out of their homes and do something fun! For these two presentations, the library had 68 children and 22 adults in attendance.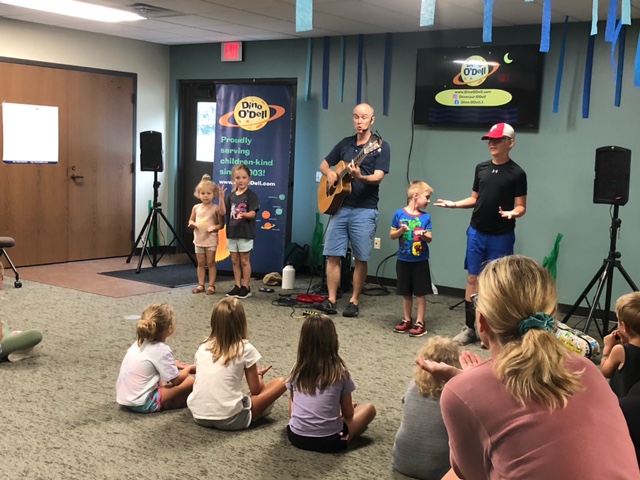 There was a 10% increase in attendance for the library's after school and summer reading programs. There was also a 10% increase in new patrons who came to check out the cricut maker, mug press, and sublimation printer.
The most significant lesson learned is that no matter how prepared you think you are, when a pandemic hits, you learn even more.
______________________________________________________________________________
The American Rescue Plan Act (ARPA) is result of the federal stimulus bill passed by Congress. The Nebraska Library Commission received a one-time award of $2,422,166. A portion of this funding has been allocated for three projects: Formula based grant program, NLC Library Improvement Grants, and NLC Youth Grants for Excellence.
This project is supported in part by the Institute of Museum and Library Services under the provisions of the Library Services and Technology Act as administered by the Nebraska Library Commission.
For more information about the 2021 American Rescue Plan, visit www.nlc.nebraska.gov/grants/arpa/index.aspx