The American Library Association (ALA), in collaboration with the Smithsonian National Museum of Natural History's (NMNH) Human Origins Program, invites applications from public libraries interested in hosting the traveling exhibition Exploring Human Origins: Promoting a National Conversation on Human Evolution.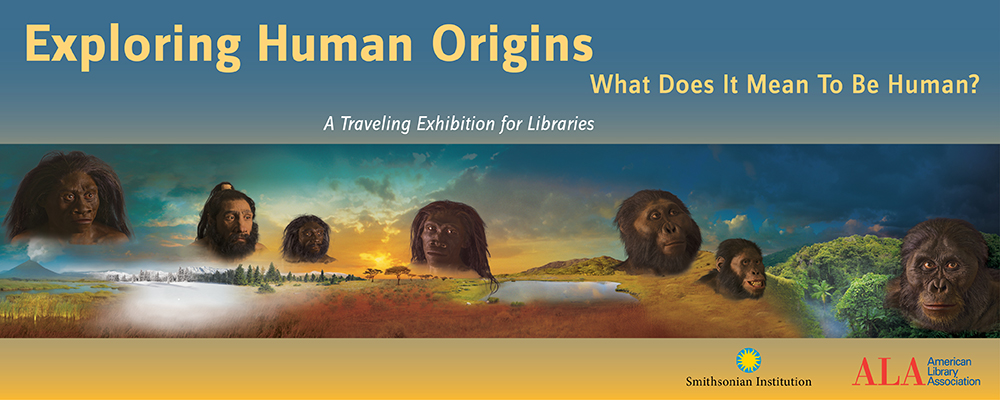 The exhibition will travel the U.S. from May 2023 through May 2026. Six public libraries will be selected to present the exhibition in their communities for a period of six to nine weeks each, with library host periods available each summer and winter. Experts from the NMNH Human Origins Program will present in-person or virtual programming at the participating libraries.
The goal of this traveling exhibition and public programs is to create an opportunity for audiences across a wide spectrum — from those who do not question the scientific study of human origins to those who are troubled by its findings — to engage the complex field of human evolution research in ways that are understandable, fulfilling, captivating, and relevant. By touring the exhibition and providing public programs to communities across the U.S., the exhibition sponsors endeavor to create a respectful and welcoming atmosphere for public audiences to explore how, when and where human qualities emerged.
Apply online at https://www.ala.org/tools/programming/exploring-human-origins Applications will be accepted September 12 — November 7, 2022.
Exploring Human Origins: Promoting a National Conversation on Human Evolution is administered by ALA's Public Programs Office in collaboration with the Smithsonian National Museum of Natural History's (NMNH) Human Origins Program. To be notified about future grants and opportunities from ALA's Public Programs Office, sign up for ALA's Programming Librarian newsletter at https://programminglibrarian.org/about/get-our-enewsletter