Not too long ago, I found myself in Chicago, visiting friends on my way to Wisconsin. Chicago fully reflects the speed of change and innovation taking over the world. I went out of my way to wave at the all-robot wait staff at X Pot, the new Asian fusion restaurant in the South Loop. That's what people expect out of Chicago, New York and those bigger cities.
Brian Ardinger is a local innovator working to transform Nebraska communities into world-class innovation hotspots. I know him from the Open Coffee sessions he started many moons ago to bring innovators, business leaders, and aspiring entrepreneurs together to share ideas, solve tricky problems, and make unexpected connections that lead to the next great idea.
I'm also a fan of his tech and innovation themed Inside Outside newsletter, podcast, and resources. He does too much stuff to list in the innovation/ startup community.
But it wasn't until I read his new book, Accelerated: A Guide to Innovating at the Speed of Change, that I fully understood what Brian does for a living as a corporate innovator and startup ecosystem builder. The book isn't all doom and gloom about how tech is taking over the world at the speed of light. He establishes that the world is changing, but then does something peculiar: he makes innovation and change possible. Dare I say, optimistic.
Most innovation books shoot people to the moon and glorify SpaceX. Brian boils innovation down to "transforming an idea into something of value… Find a problem, solve the problem, and create value along the way". Then he offers an innovation framework the average person can actually use, filled with easily digestible concepts and exercises you can try while reading, then incorporate into everyday life at home, work and everywhere in between.
Look at the world through a lens of possibility and you will find robot servers right here in Nebraska. No, really. X Pot in Chicago used robot servers to make a statement. Jojo's Gelato and Grill in Aurora, NE hired the Servi robot to solve a real problem. Struggling to get applicants and support an already overworked staff, the owners at Jojo's innovated at the speed of change and survived to tell the story. Jojo's may have innovated more easily with access to this book.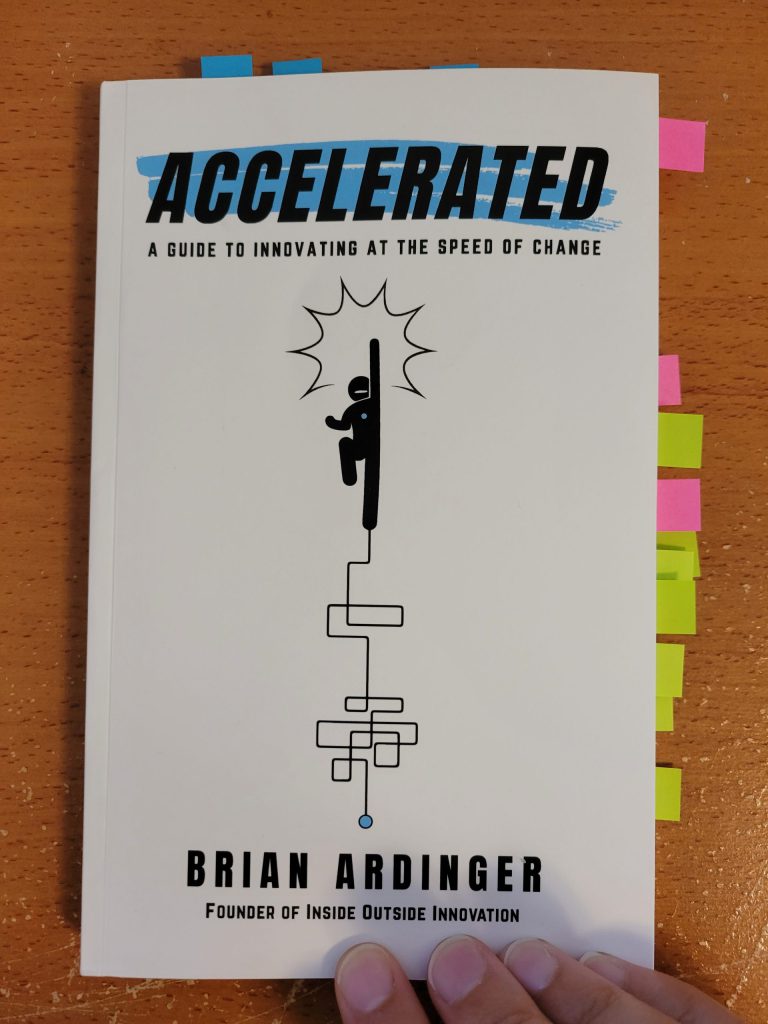 While Accelerated is marketed to businesses and startup entrepreneurs, the concepts can be applied anywhere. Even libraries. The books I actively use get color-coded with Post-Its and earn a place on the bookshelf closest to my desk. Here's what that looks like:
Blue: Chapters or sections to refer back to immediately.
Pink: Quotes and concepts for future reference.
Green: Exercises and frameworks to try or reference immediately.
From experience, I know that innovation often starts with a quiet chaos. When you know what needs to change and why, it's easier to navigate the winding, bumpy road necessary to make change happen. Whether you're an innovation beginner or change-making guru, this book will give you the tools you need to reprogram yourself to tackle uncertainty, find your place in the world, and add value anywhere you land.
This book is also a great option for libraries wanting to showcase Nebraska authors that are giving back to the community. Offer it as a resource to drive local innovation, or as a tool to tackle a rapidly changing world. The end of chapter exercises and recaps also make great book club discussion starters. Innovation is what makes the world go round. Give it a try.
Ardinger, Brian. Accelerated: A Guide to Innovating at the Speed of Change. Lioncrest Publishing, 2022.