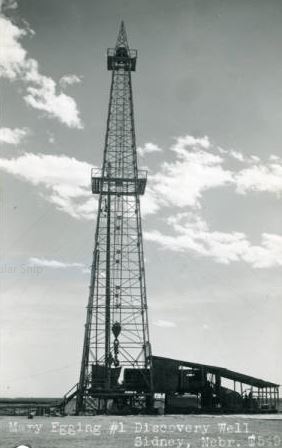 This week, we have a 3 1/2″ x 5 1/2″ postcard featuring the first oil producing well in Cheyenne County. Oil companies had drilled since 1915 without luck until this Mary Egging #1.
This image is published and owned by the Cheyenne County Historical Society and Museum. Located in Sidney, Nebraska, the items featured in this collection represent the people and places of Sidney, Fort Sidney, Potter, Dalton, and other communities in the county. Images include photos showing business districts in the heart of these towns, troops stationed at the fort, and William Jennings Bryan speaking at the Cheyenne County Court House.
Check out more historical materials related to Nebraska on the Nebraska Memories archive.
Nebraska Memories is a cooperative project to digitize Nebraska-related historical and cultural heritage materials and make them available to researchers of all ages via the Internet. The Nebraska Memories archive is brought to you by the Nebraska Library Commission. If your institution is interested in participating in Nebraska Memories, see http://nlc.nebraska.gov/nebraskamemories/participation.aspx for more information.