In commemoration of the 20th anniversary of the 9/11 attacks, the 9/11 Memorial & Museum is offering libraries a free digital poster exhibition, "September 11, 2001: The Day That Changed the World."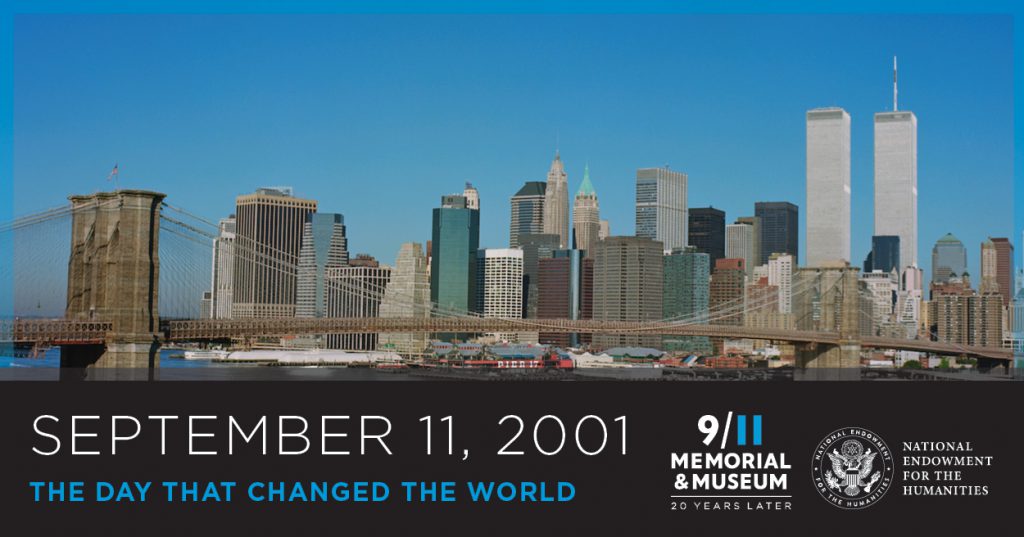 September 11, 2001: The Day That Changed the World is a downloadable educational exhibition that presents the history of 9/11, its origins, and its ongoing implications. It explores the consequences of terrorism on individual lives and communities at the local, national, and international levels, and encourages critical thinking about the legacy of 9/11.
Request your free download to receive:
14 captivating digital posters, ready to print, featuring archival photographs and images of artifacts from the Museum's permanent collection
An invitation to a free virtual training, including a live virtual tour of the Museum and information on how to use the Museum's online resources to supplement the exhibition
Access to the 9/11 Primer, an online collection of resources for educators and online learners, to help you supplement the exhibition
NOTE: A limited number of printed poster sets are available to libraries with limited resources or technological barriers. Printed posters will be given away on a first-come, first-served basis and will be shipped, free of charge, to libraries. Printer poster requests must be received by August 6.
Librarians and educators are eligible. Questions? Contact posterexhibition@911memorial.org.
This poster exhibition has been made possible in part by the National Endowment for the Humanities: Democracy demands wisdom. Any views, findings, conclusions, or recommendations expressed in this exhibition do not necessarily represent those of the National Endowment for the Humanities.