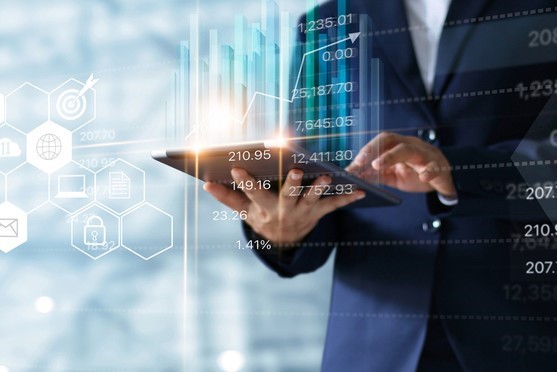 From scribbled answers in 1790 to online responses in 2020, innovation has always been part of the Census. The Census Bureau has always been a leader in using, adapting and developing new technologies, but the 2020 Census will be the most sophisticated and high tech yet.
The census began in 1790 with collected information handwritten by U.S. Marshals visiting outposts in every corner of the new nation. Every decade since, the ways the U.S. Census Bureau has tried to meet its goal of counting every person living in the United States have undergone changes as dramatic as the growth of the nation itself.
Through the centuries, the decennial count progressed from in-person collections of handwritten answers to mass mailings of paper questionnaires in 1970. Among other changes along the way: creation of an electrical punch card tabulator for the 1890 Census and the first use by a government agency of the world's first modern computer – the UNIVAC 1 – for the 1950 Census. It was developed by engineers John W. Mauchly and J. Presper Eckert, whose corporation was a division of Remington Rand.
In the previous century, Herman Hollerith, a former Census Office employee, invented a punch card tabulating machine used by the Census Bureau from the 1890 Census forward. Hollerith founded the Tabulating Machine Company, which eventually became International Business Machines (IBM).
America Counts spoke with Robert Colosi, a mathematical statistician in the Census Bureau's Decennial Statistics Studies Division, about ways technology is revolutionizing the census.
He shared four specific changes that have had a major impact on how the Census Bureau counts everyone once, only once, and in the right place.
Innovation 1: Using Satellite Imagery to Check Addresses
Before the Census Bureau can count every person in the country, it must first collect addresses for every housing unit. One way the Census Bureau uses this address list is to mail census materials, including invitations to respond online, by phone or by mail.
Census Bureau employees used to "canvass" neighborhoods in person, jotting down new addresses and correcting old ones on paper.
This long-running operation, known as Address Canvassing, is one of the ways the Census Bureau updates its Master Address File or MAF. The Census Bureau also works with the United States Postal Service (USPS) to confirm already existing addresses on file.
Address canvassing was costly and time-consuming. Employees traveled a total of 137 million miles to update the MAF before the 2010 Census.
"The number of miles we traveled was astronomical," Colosi said. "We're not going to do that for the 2020 Census."
In 2015, the Census Bureau began using aerial images from a network of satellites.
The Census Bureau developed computer software that allows employees in offices to compare satellite images from 2010 to new ones taken in real time. This helps them identify new houses, apartment buildings and other units to verify in the traditional Address Canvassing operation.
Thanks to the new In-Office Address Canvassing system, census workers reviewed 100% of all addresses in the United States for the 2020 Census and validated 65% in the office, removing them from the in-field workload.
That means workers needed to canvas fewer neighborhoods in person, saving time and money.
Address listers or canvassers hit the streets in August 2019 and completed the operation two months later, on track for the 2020 Census.
Innovation 2: Introducing Online Self-Response
The 2020 Census is the first time everyone has the option to respond to the census online as well as by phone or mail.
The Census Bureau has an Internet Self-Response tool designed to make it easy to complete the questionnaire online and keep responses secure. Directions for responding online will be included in letters, postcards and other mailings sent to most homes beginning in mid-March.
Every response submitted on the internet is encrypted. That means data are changed into a code that only Census Bureau data analysts can read. Responses travel through a secure cloud computer network and the Census Bureau locks them in a "digital vault".
The Internet Self-Response instrument, the website for completing the census online, is available in English and 12 other languages.
Census Bureau employees, called census response representatives will also provide computers and tablets for access to the Internet Self-Response tool at places like libraries, community centers, health care centers and places of worship. This is particularly helpful in rural and other areas with limited or no internet access.
Innovation 3: Introducing Mobile Devices to Enumeration
From collecting census responses and job applications to storing questionnaires, the Census Bureau has used millions of pieces of paper to gather and file information. Now it relies much more on technology – and much less on paper.
In 2020, census takers who go door-to-door to help people respond will collect information on smartphones using a custom application created by the Census Bureau.
"The Systems Engineering and Integration Team created 52 systems in our 'system of systems,'" Colosi said. "There's a whole group of systems related to that one contract of enumeration and operations control. All of it was built by Census Bureau staff and contractors."
To protect privacy, we encrypt all data and devices require two-factor authentication to be unlocked.
When a device connects to the internet, encrypted data immediately transmits to the Census Bureau's digital vault – and is no longer on the device. Encrypted data are only stored on the devices until they connect to the internet.
Software in the smartphones also provides specific routes for census takers to follow to visit homes. Optimizing routes in this way helps census takers do their jobs more efficiently.
If a device is lost or stolen, the Census Bureau will remotely wipe it clean of all applications and information.
Innovation 4: New Ways to Protect Data
The Census Bureau is the leading source of quality data about the nation's people and economy in its many surveys and programs, including the 2020 Census.
Opportunities to share and protect its data continue to grow with technology and innovation, particularly through data mashups.
Data mashups are algorithms that combine different data sources to expand graphical understanding of the data but can also find the origin of a particular set of data.
To protect against that, the Census Bureau has developed processes to protect its data from people who might try to make such mashups. Its Disclosure Avoidance System helps prevent improper disclosure of data. This addition is one of several advances the Census Bureau has made to safeguard an individual's data.
"When we produced products in the old days, we didn't have super high-tech and savvy users," Colosi said. "The idea of computing data mashups to try and combine different data sources to find individual responses was not common. Now it is."
All responses to the 2020 Census are confidential and protected by law. Title 13 of the Federal Code prohibits the Census Bureau from publishing or disclosing any private information, including names, addresses and telephone numbers.
"Our cybersecurity meets the latest, highest standards for protecting your information," Census Bureau Chief Information Officer Kevin Smith said. "We work with industry experts to continually review and refine our approach to make sure we are staying ahead of threats and ensuring quick response. From the moment we collect your responses, our goal — and legal obligation — is to keep them safe."
Census Bureau employees take an oath to keep your answers confidential. Violators face up to five years in prison and $250,000 in fines.