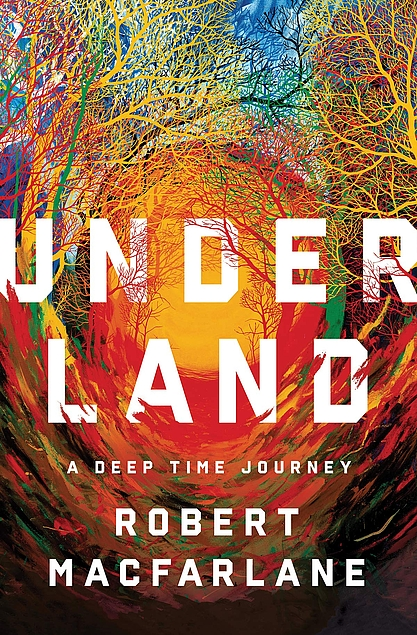 When I was eighteen years old, I hiked with my freshman anthropology class from the Hudson-Meng dig site to Toadstool Geological Park, out in Nebraska's Panhandle. It was one of the longest, hottest hikes I have ever trekked, the first where I'd ever heard the blood-freezing bone-shake tambourine of a rattlesnake and her tail, mere feet away from where I stood, and where I, with only my own two legs, traveled back in time. It is one of my favorite memories. Standing in a mostly-dry riverbank, after crossing over the pale limestone gashes in the the grasslands, eyes raised to the multicolored strata of the earthen walls around me, I was beneath and surrounded by different ages of the Earth, upon which feet so like mine might have tread. There is nothing that makes you feel smaller, more connected, more human.
Robert Macfarlane's Underland swept me back to that moment in a breathtaking work of nonfiction. His writing is crisp, lyrical, and heart-cuttingly honest. The mark of an experienced storyteller traces through each paragraph and page like the webs of fungi beneath earth's forests, connecting and communicating and enriching his experiences and ideas. Whether he is describing the way colors and sound return to the self after exiting a cave system, or forcing his body to crawl inch by claustrophobic inch through an unstable tunnel scarcely bigger than himself, there is a breath-robbing sense of adventure and awe throughout his journey.
There is also the sense of a great ache; we are, he writes, and circles back to, in the midst of the Anthropocene – the geological epoch of human impact, to be noted in the strata of our planet when we are long gone, "what will survive of us is plastic, swine bones and lead-207, the stable isotope at the end of the uranium-235 decay chain" (77). But this is not a book of pessimism, nor of misanthropy, even as it turns its gaze to The Hiding Place, in Olkiluoto, Finland, where we prepare to seal our nuclear waste. This is not a place of honour, the inscription for that chamber begins – a deterrent for the generations we hope that will come after us. And it is with the hope in the generations of whatever life that will come that the work is being done, Macfarlane realizes.
"The same three tasks recur across cultures and epochs: to shelter what is precious, to yield what is valuable, and to dispose of what is harmful" (8). This is why we go down into the Earth, why it features so heavily in our mythologies across our cultures and ages — what we have buried is a part of us, a reflection of us, what we grieve and what we hope for and what we believe in, the unknown selves we wish to uncover. It is as much a part of our future as it is our past. Underland begins with analyzing our reflexive revulsion to the underlands, and then peels back the earth and uncovers beauty and an incredible, unfathomable stretch of time that goes far before us, and will carry on far after.
Macfarlane, Robert. Underland: A Deep Time Journey. W. W. Norton, 2019.