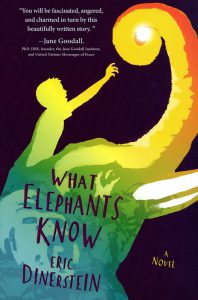 Set in the 1970s, Nandu (12) was found alone at about age 2, except for a pack of wild dogs protecting him, in the Nepalese Borderlands, having been abandoned by his parents.  He was unofficially adopted by the Subba-sahib, the head of an elephant stable in the Borderlands, a very southern part of Nepal.  The King of Nepal owns the stable and the elephants, but only rides once a year to hunt tigers in the area.  Nandu is learning to handle elephants and become a mahout (an elephant trainer) – his charge is an older female elephant called Devi Kali, and she is protective of him.
The beauty and danger of nature is explored and appreciated, as Nandu, Devi Kali, and other mahouts and elephants walk to the river for the elephants' baths and sometimes must go into the jungle.  Orphan rhino calves are rescued by the boys and tended by Rita, the sister of Nandu's friend, Dilly.  And sometimes the wild dogs provide unexpected assistance.
When Nandu is sent away to school, hopefully to learn things that will help the stable, he finds bullies and a couple of friends.  One teacher accepts his invitation to visit the stable, and Father Autry's wisdom is very helpful to Nandu and the Subba-sahib.  The stable is threatened with closure, and at first the Subba-sahib takes no action, only waiting for the King's reply to his request not to close.  Things are beginning to look dire when Rita suggests they change their focus to becoming a breeding stable.  It becomes Nandu's job to travel to the elephant sale and buy a tusker worthy of their elephants, an event he has never attended and something he knows little about.   Will he be successful and will that keep the stable alive?
Books that contain a great story and some actual facts about animals have always appealed to me.  This title will appeal to middle grade readers (grades 4-7) who are likewise interested in animal stories.  I have not yet read the companion novel (listed below), but I am going to have to find myself a copy.
Awards include winning the 2017 South Asia Book Award for Children's and Young Adult Literature, and being named a 2017 ALA Notable Children's Book.
What Elephants Know is followed by A Circle of Elephants: A Companion Novel, which was published in January of 2019.
Dinerstein, Eric. What Elephants Know. Disney-Hyperion, 2016.