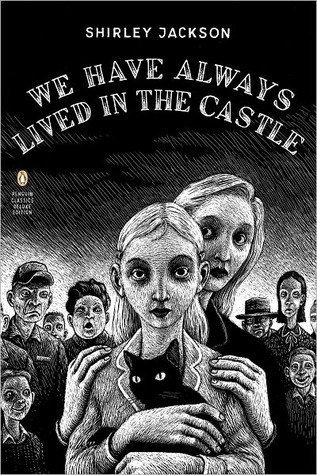 "Merricat, said Connie, would you like a cup of tea? Oh no, said Merricat, you'll poison me. Merricat, said Connie, would you like to go to sleep? Down in the boneyard ten feet deep!"
I recently finished Shirley Jackson's 1962 work "We Have Always Lived in the Castle." There's definitely something lyrical in Jackson's writing, that perfectly mirrors the narrator, Mary Katherine or "Merricat's," sing-song thought process. The children's rhyme above is repeated throughout the novel underlining the story's natural rhythm. Merricat lives an isolated existence with her older sister Constance and their invalid Uncle Julien. While Merricat is in her late teens, she still has a childlike existence, playing in the woods, burying treasure, her sole companion (outside her family) a cat named Jonas. Through her, we learn the backstory of a dark family tragedy, the death of her parents, brother, and aunt by poison six years earlier. The authorities charged Constance with murder and she's acquitted of the crime but it leaves her agoraphobic, unwilling to leave the family's large estate. The sisters are taunted and ostracized by the small local village, by the children and adults alike. And just as you are settling into this family's strange routine, a long-lost family member shows up on their doorstep and turns their little world on its head. I chose this book for a couple of reasons, first, I'm trying to get out of my comfort zone and read different genres and authors. I thought I'd dip my toe in horror with this book and move on to Jackson's "The Haunting of Hill House" next if it all went well. My second reason is that the movie recently hit theatres and it's always my goal to read the book first. This was my first Shirley Jackson book, and it will not be my last. Jackson, Shirley.
We Have Always Lived in the Castle
. Penguin Classics, 2006.