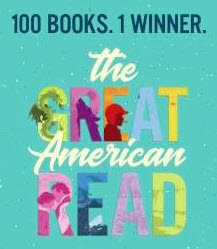 The Great American Read is the new PBS eight-part television competition and nationwide campaign to discover America's favorite novel. Everyone can vote for their favorite from a list of 100 novels chosen in a national survey. NET Television is offering Nebraska resources for programming to help community members participate in the Great American Read. Nebraska libraries are invited to request posters and bookmarks (and possibly a local screening) from Marthaellen Florence, Director, Community Engagement, Nebraska Educational Telecommunications – NET, mflorenc@netad.unl.edu, 402-470-6603.
See http://netnebraska.org/greatread or Facebook.com/netNebraska for more information about the program broadcasts on NET. The series is hosted by Meredith Vieira and features conversations with authors, celebrities, and book lovers. The programs are scheduled for the next six weeks, leading up to the last day of voting (October 18, 2018) and announcement of America's favorite read (October 23, 3018).
Schedule
"Launch Special" (Premiered Tuesday, May 22, 2018) – WATCH NOW
"Fall Kick-off" (Premieres Tuesday, September 11, 2018 7:00 p.m. ct)
"Who Am I?" (Premieres Tuesday, September 18, 2018  7:00 p.m. ct)
"Heroes" (Premieres Tuesday, September 25, 2018  7:00 p.m. ct)
"Villains and Monsters" (Premieres Tuesday, October 2, 2018 7:00 p.m. ct)
"What We Do For Love" (Premieres Tuesday, October 9, 2018  7:00 p.m. ct)
"Other Worlds" (Premieres Tuesday, October 16, 2018  7:00 p.m. ct)
"Grand Finale" (Premieres Tuesday, October 23, 2018  7:00 p.m. ct)
The Nebraska Library Commission's Talking Book and Braille Service helps Nebraska librarians serve library customers who can't use regular print, and all but four of the Great American Read titles are available in the talking book format through this service. For more information, see http://nlcblogs.nebraska.gov/nlcblog/?s=great+american+read. To help serve book clubs that want to read a title from this list, the Nebraska Library Commission Book Club Kit collection contains 59 of the 100 selections. To serve your library customers, search at http://nlc.nebraska.gov/ref/bookclub/ or contact Lisa Kelly, Information Services Director, 402-471-4015 for the list of Great American Read titles available in Book Club Kits.
For more information, see the recording of the Sept. 5, 2018 NCompass Live Great American Read broadcast at http://nlc.nebraska.gov/scripts/calendar/eventshow.asp?ProgID=17615 
#GreatReadPBS