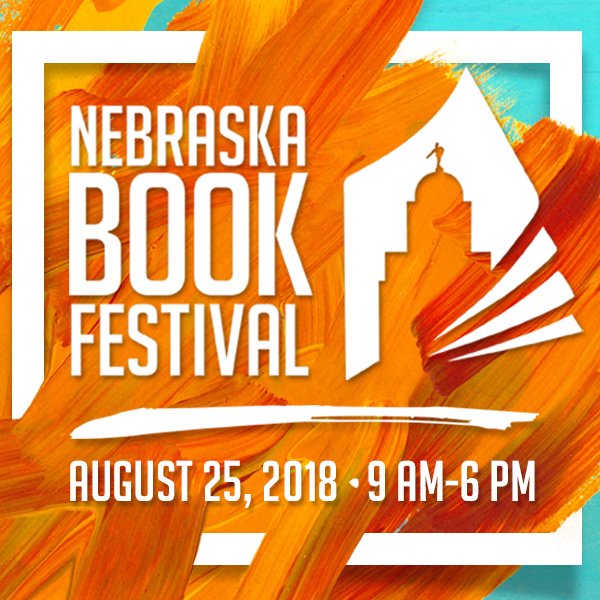 Nebraska books and writers will be featured and celebrated at the Nebraska Book Festival on August 25, 2018. This event will highlight work by Nebraska writers and publishers, with a focus on stories and poetry set in Nebraska.
The August 25 Nebraska Book Festival will be held at the University of Nebraska City Campus Union from 9:00 a.m.-6:30 p.m. It will feature author appearances, book signings, exhibitors, booksellers, poetry readings, and hands-on family activities. Authors include Janice Harrington, Stew Magnuson, Brandon Vogel, Melissa Fraterrigo, Jeff Kurrus and Michael Forsberg, along with Nebraska poets from the 2018 One Book One Nebraska selection Nebraska Presence: An Anthology of Poetry. The Nebraska Writers Guild will feature readings, discussions, and workshops for writers. Concierge Marketing will host Maker activities to celebrate books, including family activities  to encourage book lovers of all ages to craft, draw, imagine, and create.
An opening reception on Friday evening and a closing reception on Sunday afternoon will be held at the Center for Great Plains Studies to highlight new Nebraska books. The Festival is sponsored by University of Nebraska Press, Nebraska Library Commission, Nebraska Center for the Book, Lincoln City Libraries, Humanities Nebraska, Union Bank and Trust, University of Nebraska-Lincoln College of Journalism & Mass Communications, Friends of University of Nebraska Press, Nebraska Writers Guild, and Concierge Marketing and Publishing Services. More information about the Festival is available at http://bookfestival.nebraska.gov/2018/index.aspx.