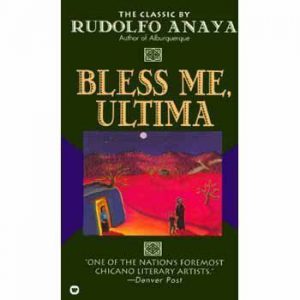 I became motivated to reread this book when I looked at the booklist for The Great American Read program and realized that it had been about forty years since I first encountered this classic "Coming of Age" story.
With Bless Me, Ultima (1972), the first in a trilogy (followed by the publication of Heart of Aztlan in 1976 and Tortuga in 1979), Anaya follows six-year-old Antonio on his growing-up journey and spins the story by revealing dreams and reality—and blurring the fine line between them from time to time. Anaya says he does not seek characters—they just come to him. So it is with Ultima. Anaya says she appeared in the doorway while he was writing and assured him that the story will not work unless he put her in it. Ultima is a pivotal character in the story. She is a curandera—a healer and teacher, and she guides Antonio gently without prescribing exact choices to make or solutions to problems.
From the first dream sequence to the last (you'll recognize them, they are in italics), it is clear that Antonio was born to struggle and that his path is marked by having his feet in two different worlds. Throughout the book, he is faced with tests. Some are common tests of childhood, like how to overcome the loneliness of feeling different. Others are extremely unusual and painful tests for a young person to endure and learn from. I feel like this book has resonated with so many readers because even though we may live in different worlds, many of us can really relate to his experience. Are we all on the same journey as Antonio? Struggling to understand good and evil around (and within) us? But are some of us especially lost with no guides or curanderas to show us the way?
The setting and characters ring true to me. The book mirrors my experience in small towns in New Mexico right down to my best friend Lenora's grandmother—who might very well be the model for Antonio's mother—speaking only Spanish, warning us against straying to the city (too late—we were already on our way to LA), and feeding us the most heavenly comfort food for breakfast, lunch, and dinner.
The story is told in flat-out beautiful writing, and unless you read the book, you'll just have to take my word for it that this book has one of the best first paragraphs ever! So I'd suggest you (and your book group) find out for yourselves. This #FridayReads feature is available as a Book Club kit from the Nebraska Library Commission at http://nlc.nebraska.gov/ref/bookclub.
The Great American Read is an eight-part PBS series that explores and celebrates the power of reading, in the context of America's 100 best-loved novels (as chosen through a national survey). It investigates how and why writers create their fictional worlds, how we as readers are affected by these stories, and what these 100 different books have to say about our diverse nation and our shared human experience. Voting for America's favorite book opened with the launch of the two-hour premiere episode on May 22 and continues throughout the summer, leading up to the grand finale "favorite" announcement in October 2018. Viewers can vote at pbs.org/greatamericanread and through hashtag voting via Facebook and Twitter using #GreatReadPBS. I think I might be voting for Bless Me Ultima. Which book will you vote for?
Review by Mary Jo Ryan.
#fridayreads
#GreatReadPBS