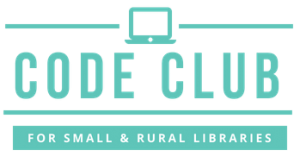 Small and rural public libraries nation-wide are invited to apply to be a part of the IMLS grant "Code Club for Small & Rural Libraries."
The North Dakota State Library (NDSL) received a grant for $249,000 from the Institute of Museum and Library Services (IMLS), through the National Leadership Grant for Libraries, to help youth learn coding at 50 libraries across the country.
Small and rural communities are at risk of being left behind as computer programming emerges as a critical skill and the gap in access to computer science education widens between urban and rural America. Code Club for Small & Rural Libraries seeks to enable the libraries in these communities to introduce coding to thousands of youth aged 8-14, which will help them gain the skills needed for college and career readiness and life success.
"As centers of learning and catalysts of community change, libraries and museums connect people with programs, services, collections, information, and new ideas in the arts, sciences, and humanities. They serve as vital spaces where people can connect with each other," said IMLS Director Dr. Kathryn K. Matthew. "IMLS is proud to support their work through our grant making as they inform and inspire all in their communities."
The grant will deliver all the resources necessary to run a code club in small and rural public libraries. Those resources include one-on-one training sessions, code club software, and ongoing coaching and support.
A code club is an informal program that takes place at a library where kids learn computer programming skills. Teaching kids computer programming skills can dramatically impact your community by providing kids with 21st century career opportunities and instilling a valuable set of life skills, like computational thinking and problem solving.
Through a partnership with Prenda, code club does not require any coding knowledge to run. It does, however, require:
Computers (laptops or desktops)
High-speed internet
A space in the library
Library staff/volunteer to facilitate
To be eligible for this grant you must qualify as a "small or rural public library."
Small = any public library with a service area of 15,000 or less
Rural = any public library more than 25 miles from an 'urbanized area' (as defined by the US Census)
Applications to participate are due July 16 and must be completed online.
Learn more on the grant website or through the official Facebook group.
This project is funded by the Institute for Museum and Library Services (IMLS) and is administered by the North Dakota State Library, in collaboration with Prenda. (IMLS Grant information)