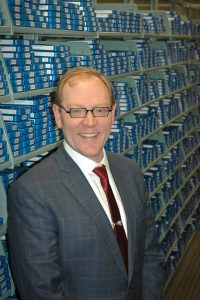 Congratulations to Scott Scholz, who recently completed his MLS degree from the University of Missouri. Scott joined the Library Commission in 2005 to take what might be described as the perfect job for someone with his interest in reading and qualifications for recording. We are fortunate his wife Heidi found the original job posting for circulation manager that led him to us. In recent years, he has taken a leadership role on a number of NLC projects, including moving lower level operations to a new space on the first floor of the Atrium Building in 2014, helping Nebraska become the first state to convert its magazine recording program to digital format in 2010, and implementing assembly and review procedures in the TBBS studios. Currently, Scott is performing the work of two staff, as both the Acting Director of the Talking Book and Braille Service and the Circulation and Audio Production Coordinator.
Scott's commitment to books, culture, and community makes the Talking Book and Braille Service hum, and he is a devoted advocate for Nebraskans who are unable to use traditional print. This interest started early, in Columbus, NE, where Scott was raised only two blocks from the Columbus Public Library and served as a volunteer for summer reading programs. As a young reader, he was interested in all kinds of fiction and nonfiction, from Encyclopedia Brown to science books. While working at a bookstore in high school, Scott developed an interest in music and went on to earn a bachelor's degree in music composition from the University of Denver. Scott lists authors David Foster Wallace, William S. Burroughs, and Miranda July among his current favorites, along with interests in Surrealist and Dada literature and history.
Outside of library work, Scott hosts a podcast called Words on Sounds, writes for several online publications, and runs a boutique experimental music label. Scott writes about and reviews experimental music to promote artists and connect with others who share the same passion for the underground music scene.
Scott credits Glee Nelson (the former children's librarian at Columbus Public Library), and Kurt Cylke (former director of the National Library Service for the Blind and Physically Handicapped) as influences on his career path.
On the home front, Scott has been married to Heidi Uhing for 13 years and they share their residence with two dogs, Olive and Izzy, as well as some backyard chickens. As a Lincolnite, Scott appreciates what is happening in the local arts and culture community, and the ease and beauty of life in Nebraska. As a staff member of the Library Commission, we hope he stays for a very long time, because nobody could ever replace him and what he offers to our staff and to our patrons.
.