Among the positions appointed by a United States president are ambassadors to foreign countries. One former ambassador with Nebraska ties was David Eugene Thompson. Born in Michigan, Thompson came to Lincoln by way of his work with the Burlington Railroad and made his mark in Lincoln during the 1890s and early 1900s. In addition to his work with the railroad, he was president of local gas and insurance companies.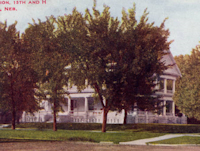 In 1892, Thompson and his wife, Jeannette, built a Neoclassical Revival-style two-and-a-half story house at 1445 H Street, seen in the postcards at left and right (
Nebraska Library Commission Collection
). The elegant residence contained several wood-paneled rooms on the first floor, six fireplaces, and a third floor ballroom. The Thompsons sold this house to the State of Nebraska in 1899 to serve as the first official Governor's mansion. The sale included many of the furnishings. For more information about and photographs of the house, see James E. Potter, "
The Governor's House, the People's House: Nebraska Governors' Residences
"
Nebraska History
89 (2008):26-41.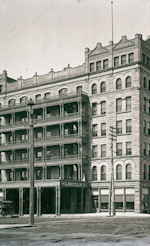 The Thompsons next lived in the Lincoln Hotel seen at right (
Townsend Studio Collection
) and maintained rooms there as late as 1908. While living here, Thompson founded the Lincoln Daily Star newspaper, later the Lincoln Star, which finally merged with the Lincoln Journal in 1995 to become the current Lincoln Journal Star. He also became more involved in politics. President Theodore Roosevelt appointed Thompson as the "Envoy Extraordinary and Minister Plenipotentiary" to Brazil. Thompson took up his position as of April 1,1903. As of March 16, 1905, the position became "Ambassador Extraordinary and Plenipotentiary," and the Thompsons remained in Brazil until November 1905. President Roosevelt next appointed Thompson as Ambassador to Mexico where he served from March 1906 to December 1909. The Thompsons remained in Mexico City where Thompson bought and managed the Pan-American Railway until his wife's death in 1911. Mrs. Thompson was buried in the Wyuka Cemetery in Lincoln, and Thompson lived in Lincoln for a few more years before moving to California. After his death in 1942, Thompson was also buried in the Wyuka Cemetery. At some point during the 1900s, the Thompsons gifted the city of Lincoln with the fountain seen below (Nebraska Library Commission Collection). Located at 11th and J Streets, the fountain remained a prominent feature of the capitol/university/downtown district until it was moved to Antelope Park which was developed in the late 1910s.
Visit
Nebraska Memories
to search for or browse through many more historical images digitized from photographs, negatives, postcards, maps, lantern slides, books and other materials. Nebraska Memories is a cooperative project to digitize Nebraska-related historical and cultural heritage materials and make them available to researchers of all ages via the Internet. Nebraska Memories is brought to you by the Nebraska Library Commission. If your institution is interested in participating in Nebraska Memories, see
http://nlc.nebraska.gov/nebraskamemories/participation.aspx
for more information, contact
Devra Dragos
, Technology & Access Services Director.