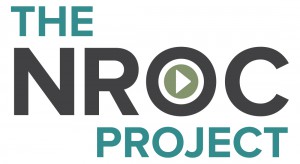 Along with Rod Wagner, Sherry Crow and Sally Snyder, I'm attending the Symposium on Education in Nebraska–and the focus is Opportunity and Access. There is a great deal of interest in how digital resources expand opportunities, and access is at the heart of this. And since libraries are all about access, we can be at the center of this movement.
Dr. Gary Lopez, presented the keynote address on the NROC project to develop and distribute digital resources for education—lessons, courses, curricula. He stressed that the project has an open access philosophy, developing digital resources for millions of students from middle school to college.
NROC http://www.thenrocproject.org ) developed specific digital resources & curriculum…Math and English for starters…to address the achievement gap in education. Addressing achievement gap by transitioning the one-size-fits-all system of education to an adaptable system…from analog to digital should mean that learning can be personalized to individuals—assuring that student feedback drives repetition to address specific gaps. Personalized learning is adjusting the pace (individualization), approach (differentiation) and connection to the student's learning interest and experiences. Resources are available through hippocampus.org and edready.org. Comment below about your reaction to the library role in this evolving change in education and learning.
About NROC
"NROC" started as the National Repository of Online Courses. Now we are much more. The NROC Project is a national, non-profit movement impacting college & career readiness. Our project is funded by the Bill & Melinda Gates Foundation, The William and Hewlett Foundation, and most importantly by NROC members across the country. Our member institutions represent more than 6 million students from middle school to college across the U.S. We are leaders who believe in open and equal access to education and the power of new media to personalize learning. Together, we're building content and applications to impact student success and delivering them publicly at websites like HippoCampus and EdReady.