This year's Summer Reading Program is "Every Hero Has a Story" (or "Escape the Ordinary" for us older folks). 
After the Golden Age
caught my eye as I passed a display of hero- themed books at my local library.  I'm not typically a reader of graphic novels or the Marvel Universe, but I enjoy fantasy and science fiction, and this book has a bit of romance and family drama thrown into the mix.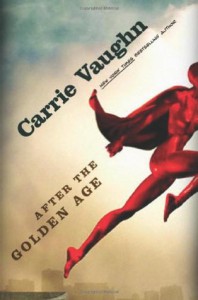 It takes super powers to be a hero. At least that's what Celia West assumes.  After all, she's the daughter of Captain Olympus and Spark, the superhuman crime-fighters that lead Commerce City's vigilante team, the Olympiad.  Much to their disappointment, Celia didn't inherit her father's super strength or her mother's pyrokinesis. Instead, she seems destined to be a target for city's villains; she's been kidnapped so many times, she wonders if she should change her name to "The Captive Wonder." After a youthful indiscretion, Celia tries to make a normal life for herself as a forensic accountant, away from her parents and out of the Olympiad's shadow.  Our story begins when Celia is asked to assist with the tax-evasion trial of The Destructor, the city's most notorious supervillain and her parent's archenemy.  Will Celia be able to take down the criminal mastermind that neither her parents nor the police could ever defeat?  Or will her involvement in the trial be just the public distraction the mayor needs to rid Commerce City of its meddlesome superheroes?  It's up to Celia to save the day.