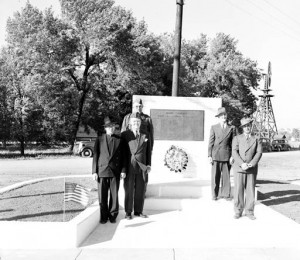 Veterans Day is an official United States holiday that honors people who have served in the U.S. Armed Forces. It is a federal holiday (originally known as Armistice Day) that is observed on November 11 ; that date being chosen because major hostilities of World War I were formally ended at the 11th hour of the 11th day of the 11th month of 1918, when the Armistice went into effect.   In 1945, World War II veteran Raymond Weeks from Birmingham, Alabama, had the idea to expand Armistice Day to celebrate all veterans, not just those who died in World War I.  Congress officially changed Armistice Day to Veterans Day on June 1, 1954.
In honor of our Nebraska veterans, I would like to mention a few of the photographs that can be found in
Nebraska Memories
.  The picture above is of the Veteran's Memorial in Bruno, Nebraska.   The picture to the right is of Orin W. Boston, of  David City, Nebraska, wearing his father's Union Civil War uniform.  The picture below is of  Clyde Zeilinger, who first served on the Mexican border, then was a medic and a prisoner of war during World War I.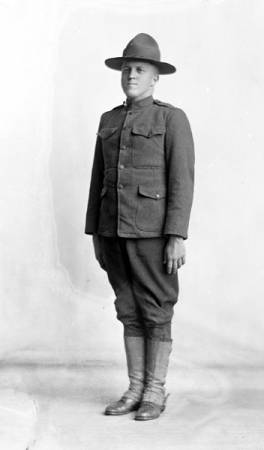 The next photograph is of Evelyn Powell of David City, Nebraska, who served in the US Naval Reserve (Women's Reserve) during World War II.
Visit
Nebraska Memories
to search for or browse through many more historical images digitized from photographs, negatives, postcards, maps, lantern slides, books and other materials. Nebraska Memories is a cooperative project to digitize Nebraska-related historical and cultural heritage materials and make them available to researchers of all ages via the Internet. Nebraska Memories is brought to you by the Nebraska Library Commission. If your institution is interested in participating in Nebraska Memories, see
http://nlc.nebraska.gov/nebraskamemories/participation.aspx
for more information, or contact
Beth Goble
, Historical Projects Librarian, or
Devra Dragos
, Technology & Access Services Director.