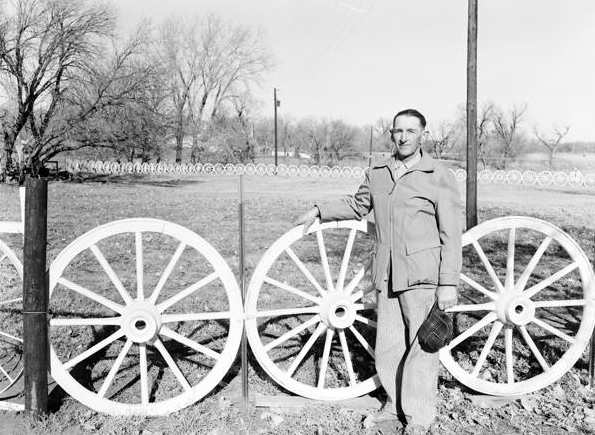 This week, we have a 3″ x 5″ on-site photograph of Ernie Nozicka at his home near Bruno, Nebraska. Ernie was born near Bruno on June 11, 1898, the son of Matej and Frances Smejkla Nozicka. He married Rose Krepcik and after she died in 1972, married Julia Strudl. He farmed northeast of Bruno for 60 years and his place was known as the "Wagon Wheel Farm". He had over 300 white wagon wheels with fencing lining both sides of the lane to his home and along the main road north of his farm. He started farming with six head of horses and never owned a tractor. In the 1930's and 1940's he broke horses for riding and farm work. He supplemented his income by working as the township overseer of Skull Creek. He was also a real estate broker and served on the Bruno School Board. He entertained people with his accordion music for over 75 years and often drove a team of horses or mules with a decorated buggy in local parades.
This 1950's image is published as part of the Boston Studio Project and is owned by the Thorpe Opera House Foundation. The Boston Studio Collection consists of over 68,000 negatives that record life in and around David City, Nebraska from 1893 to 1979.
If you like history, check out the Nebraska Memories archive!
The Nebraska Memories archive is brought to you by the Nebraska Library Commission. If your institution is interested in participating in Nebraska Memories, see http://nlc.nebraska.gov/nebraskamemories/participation.aspx for more information.