Learn all about Nebraska's Children's Choice Award, the Golden Sower, on next week's NCompass Live webinar on Wednesday, November 1, at 10am CT.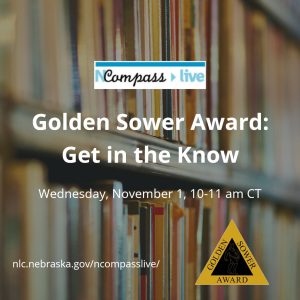 The Nebraska Golden Sower Award is Nebraska's Children's Choice Literary Award, sponsored by the Nebraska Library Association. Since 1982, the Golden Sower Award has sought to sow seeds which stimulate children's thinking, introduce different types of literature, encourage independent reading, increase library skills, and foster an appreciation for excellence in writing and illustrating. This presentation will address the nature of the award, describe the award process, provide updates on changes to the award and committee structure, and share how to get involved.
Presenter: Anne Price, Nebraska Golden Sower Award Committee Member; Children's Librarian, North Platte Public Library.
Upcoming NCompass Live shows:
Nov. 8 – Racial & Gender Bias in Search
Nov. 15 – Redesigning a Library Website
Nov. 22 – Best New Children's Books of 2023
Nov. 29 – Pretty Sweet Tech: Internet Librarian 2023 Highlights
Dec. 6 – Using Creativity to Grow & Develop
Dec. 13 – Canvaholic
Dec. 20 – Summer Reading Program 2024: Adventure Begins at Your Library
Jan. 17, 2024 – Auditing Library Websites
Jan. 24, 2024 – Best New Teen Reads of 2023

To register for an NCompass Live show, or to listen to recordings of past shows, go to the NCompass Live webpage.
NCompass Live is broadcast live every Wednesday from 10am – 11am Central Time. Convert to your time zone on the Official U.S. Time website.
The show is presented online using the GoTo Webinar online meeting service. Before you attend a session, please see the NLC Online Sessions webpage for detailed information about GoTo Webinar, including system requirements, firewall permissions, and equipment requirements for computer speakers and microphones.