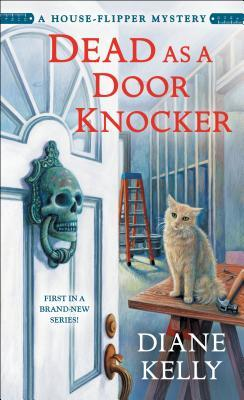 With Halloween a week away, I love to enjoy the spookier books in our collection. But what's great about Halloween is that there are so many ways for readers to enjoy the season without getting too scared. So, for the scaredy cats this Halloween Season, we'll be looking at Dead as a Door Knocker by author Diane Kelly. Kelly is a prolific, cozy mystery writer, having (accidentally) worked with white-collar criminals in her former work as a tax advisor and decided to author the criminals herself rather than working with them. She has been awarded the Golden Heart Award from the Romance Writers of America and a Reviewers' Choice Award.
In the first installment in the House-Flipper Mystery series, we meet 20-something Whitney Whitaker, a property manager living in her parents' (renovated) pool house with big dreams and a small cat named Sawdust. When a property goes up for sale by the cheapskate Rick Dunaway, Whitney snatches up the deal, thinking it was too good to be true. But she gets more than she bargained for when Rick's body shows up in her flower bed a few days later! With the help of her best friend Collette, cousin Buck, and Nashville's newest homicide detective, Collin Flynn, Whitney sets out to catch the killer with her life and the house's market value on the line.
With brief mentions of blood, peril, and, of course, a body, Dead as a Door Knocker is driven by its characters and their relationships, not a murderous fiend. As we tick through the list of potential suspects, there are plenty of stops along the way into the world of house-flipping, rentals, and kitty shenanigans. Cozy mysteries like Dead as a Door Knocker let the more squeamish in your book club groups enjoy the fun of solving a good mystery without all the blood and gore getting in the way.
If you're interested in requesting Dead as a Door Knocker for your book club, you can find the Request Form here. There are 10 copies available. (A librarian must request items)
Kelly, Diane. Dead as a Door Knocker. St. Martin's Press. 2019