As a relatively new Nebraska Library Commission employee, I have thoroughly enjoyed learning about the various collections at the Commission, including the impressive book club kits. I'm always curious to see what is being shipped out to libraries across the state on any given week. Knowing my interest in non-fiction, my colleague pointed one of the memoirs in the book club kits: Educated, by Tara Westover. It was not yet on my Libby wish list, so I had to add it, and I later listened to it as an audiobook.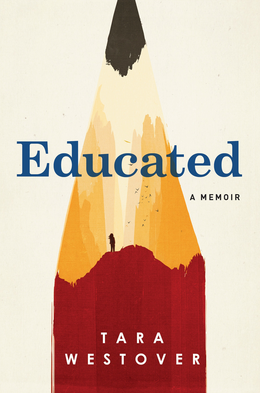 Tara Westover was raised by a fundamentalist Mormon family in rural Idaho. Her parents coached their children to say they were "homeschooled" if anyone inquired, but in reality Tara spent most of her childhood working alongside her father and brothers in the family scrapyard. Her parents were suspicious of many things in the world outside their secluded family. They rejected formal education and modern medicine, preferring to rely on faith and homeopathy. Her father was obsessed with preparing for the end of times, and compulsively stockpiled food and supplies. He distrusted everything about the government and chastised most outsiders as socialists who were influenced by the Illuminati.
Tara's childhood was filled with fear and sadness. She experienced horrific violence, shaming, and threats from an older brother. The family culture taught that women should be submissive and modest, and she was frequently shamed or witnessed the shaming of other women. But Tara was also inspired to learn and to leave. She decided to follow in the footsteps of an older brother who was self-motivated to study, take the ACT, and go to college.
Tara's challenges did not disappear after enrolling at BYU at the age of seventeen. Much of the book deals with her collegiate life and self-discovery. Tara's journey had many ups and downs as she navigated a world she was unfamiliar with, and she dealt with a lot of push and pull from her family, who disputed her claims of abuse. They have continued to disagree with her perspectives, and her mother later published a book of her own.
Educated covers a lot of heavy topics including abuse, mental illness, and many layers of family trauma. But it is also a story about self-discovery, belonging, and finding a voice, which many readers will likely connect with. Educators and those who work with youth may find inspiration in the power of mentoring those without family support to find opportunities and strive to do the big things they never imagined they could do. Larger themes of facing fears and finding strength also run through the book. One of my favorite things Tara discovers is "books were not tricks and I was not feeble."
Westover, Tara. Educated. Random House, 2018.