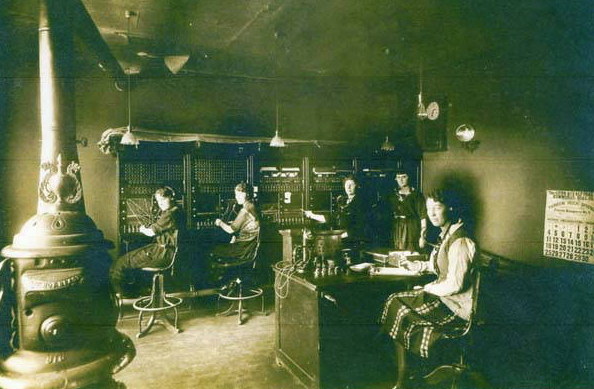 In 1882, the telephone exchange owned by the Nebraska Telephone Company was established in Fairmont. By 1884, 30 instruments were in use in Fairmont, with the central office attending to an average of 300 calls per day. This picture was taken in 1923 with Lawava Abrams, Mae Crooker McMahon, May Walker, Bess Storm and Alice Crooker Peters.
During this time, there was also an Independent Telephone company and the rivalry between the two companies was high. Cedar Hill Telephone Company and Scott Telephone Company were also vying for a part of the telephone interest. The Nebraska Telephone Company was bought out by Lincoln Telephone and Telegraph Company on January 22, 1912.
This black and white photograph is published and owned by Fairmont Public Library. In partnership with the Fillmore County Historical Society, photographs depicting the history of Fillmore County were digitized. Included in this collection are images of local businesses, schools, churches, and the Fairmont Army Airfield, which was used during World War II.
See this collection and many more on the Nebraska Memories archive.
The Nebraska Memories archive is brought to you by the Nebraska Library Commission. If your institution is interested in participating in Nebraska Memories, see http://nlc.nebraska.gov/nebraskamemories/participation.aspx for more information.