Boys state basketball is underway and we're celebrating with this week's #ThrowbackThursday!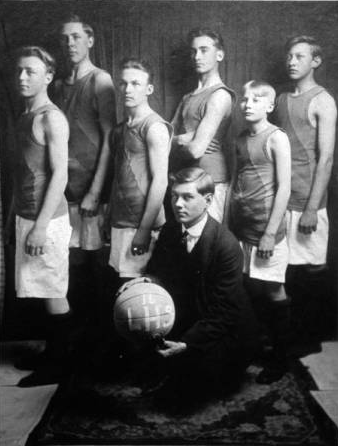 Today, we have a 5″ x 7″ black and white photograph of the Loomis High School basketball team in 1916. In the back row stand Gordon Linder, Herb Atkins, and Phil Johnson. In front of them stand Reuben Almquist, Frankie Johnston, and Roland Bragg. Professor Peterson kneels in the front.
This week's #throwback is published by the Holdrege Area Public Library and is owned by the Phelps County Historical Society. Together in partnership, the public library and Historical Society digitized a collection of images that portray the county's history since the mid 1880's.
Check out this collection on the Nebraska Memories archive.
Nebraska Memories is a cooperative project to digitize Nebraska-related historical and cultural materials and make them available to researchers of all ages. The Nebraska Memories archive is brought to you by the Nebraska Library Commission. If your institution is interested in participating in Nebraska Memories, see http://nlc.nebraska.gov/nebraskamemories/participation.aspx for more information.