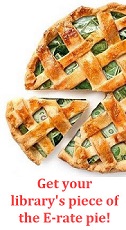 The E-rate Form 471 application filing window for Funding Year 2023 opened today at noon EST and will close on Tuesday, March 28 at 11:59 pm EDT. You may now log on to the E-rate Productivity Center (EPC) and file your FCC Form 471 for FY2023.
This makes Tuesday, February 28, the deadline to post your Form 470 to the USAC website, meet the 28-day posting requirement for the competitive bidding process, and submit a Form 471 by the filing window closing date.
However, we do not recommend waiting until the last day to submit your Form 470! If there are any issues that day, like the E-rate servers are slowed down because it is the last day to submit, or you can't submit the form due to reasons on your end, such as illness, weather, power outage, etc., then you would miss the deadline and lose out on E-rate altogether. So, get your E-rate Form 470 submitted as soon as possible!
IMPORTANT: Before you file your Form 471, check your Form 470 Receipt Notification for your Allowable Contract Date – the first date you are allowed to submit your 471. Do not submit your 471 before that date! Remember, after you submit your Form 470, you must wait 28 days to submit your Form 471. You can find your Notification within the EPC portal in your News feed.
Do you need help completing your forms? Do you have questions about E-rate? You're in luck!
Today's E-rate Special Edition News Brief has detailed tips and instructions, as well as information about upcoming online training opportunities from USAC. To keep up on E-rate news, subscribe to the USAC E-rate News Brief.
And more recorded webinars, demos, and training materials are available on the NLC E-rate webpage.
If you have any questions or need any assistance with your E-rate forms, please contact the State E-rate Coordinator for Public Libraries in Nebraska, Christa Porter, 800-307-2665, 402-471-3107.