Learn how to manage your library's technology problems using SpringShare LibAnswers on next week's Pretty Sweet Tech NCompass Live webinar on Wednesday, December 28, at 10am CT.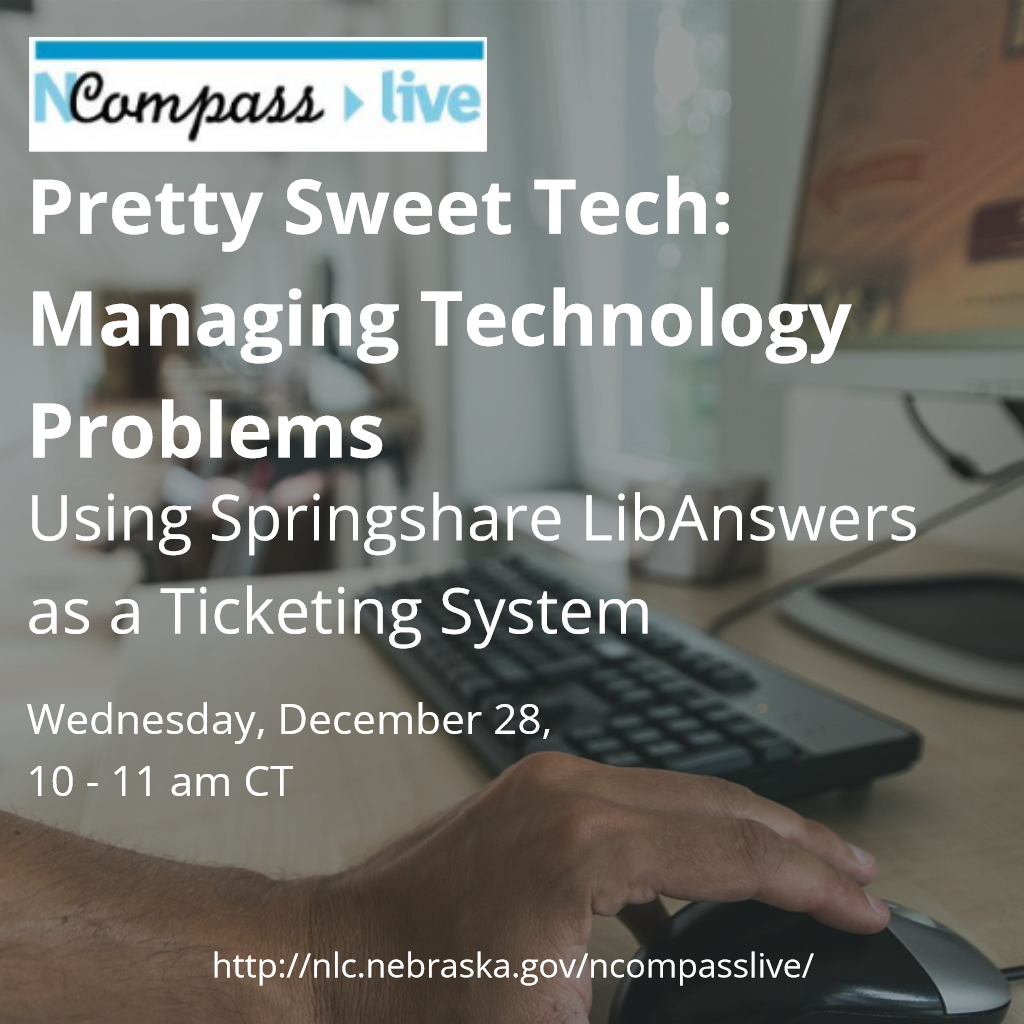 Special monthly episodes of NCompass Live! Join the NLC's Technology Innovation Librarian, Amanda Sweet, as she guides us through the world of library-related Pretty Sweet Tech.
Come to this session to learn how (and why) to set up a SpringShare LibAnswers Queue to manage all technology-related problems in your library. I will share our experience in setting up and using our "LibTech" queue to track issues pertaining to the library website, library services platform, and hardware/software in the library.
Presenter: Bobbi-Jean Ludwig, Coordinator of Library Technology Services & E-Resources Librarian, Calvin T. Ryan Library – University of Nebraska – Kearney.
Upcoming NCompass Live shows:
Jan. 4, 2023 – Critical Hit! Tabletop Gaming in the Library
Jan. 11, 2023 – Best New Teen Reads of 2022
Jan. 18, 2023 – First Amendment Audits: What You Need to Know
Jan. 25, 2023 – Pretty Sweet Tech: Learn About TechGirlz & Inspire Girls in Your Community Today!
Feb. 8, 2023 – Accessibility Isn't Just for Patrons! Internal Documentation for Everyone
Feb. 15, 2023 – Digital Libraries as Digital Third Place: Virtual Library Programming
March 8, 2023 – Read the Rainbow: Serving the LGBTQ+ Community in Your Library

For more information, to register for NCompass Live, or to listen to recordings of past events, go to the NCompass Live webpage.
NCompass Live is broadcast live every Wednesday from 10am – 11am Central Time. Convert to your time zone on the Official U.S. Time website. The show is presented online using the GoToWebinar online meeting service. Before you attend a session, please see the NLC Online Sessions webpage for detailed information about GoToWebinar, including system requirements, firewall permissions, and equipment requirements for computer speakers and microphones.