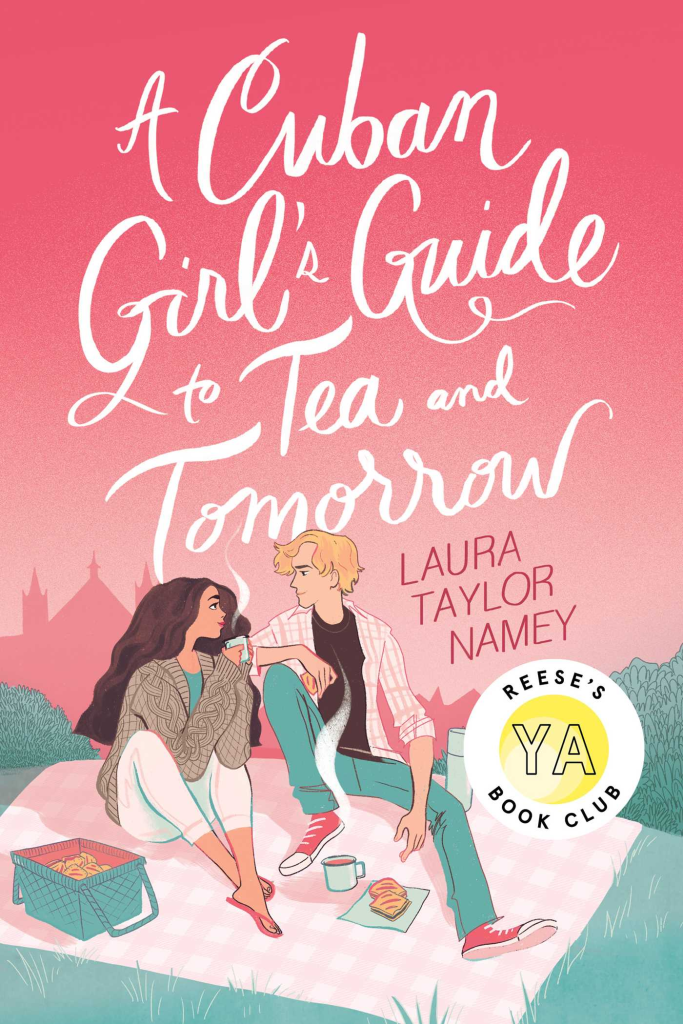 To round out Hispanic Heritage Month, let's spotlight a book that is as sweet as pastelitos de guayaba! In Laura Taylor Namey's slow-burn, low-drama romance, A Cuban Girl's Guide to Tea and Tomorrow, Cuban and English heritage collide over tea, pastries, and familial love. In an interview with Publishers Weekly, Namey explains that her book "hails straight out of my family album… Many places, traditions, foods, and life lessons from my childhood are woven into the story. I tried to take the spirit of people I love, and the truths I learned about identity and legacy and reimagine them into a coming-of-age novel that teens could relate to". And despite taking place in the cold rain of England, Cuban culture and traditional food are at the forefront of this novel.
As a 2nd generation Cuban immigrant, Lila Reyes has life meticulously planned out. She has an incredible best friend, a long-term boyfriend she adores, and the love of her dear Abuela and her bakery. But when her Abuela suddenly passes away, Lila loses everything. Everything except the certainty in her future as the panadería's head baker. With her sights firmly set on her future, she tries to push away her depression and trauma, only to end up breaking down mentally and physically. Worried about her health, Lila's parents send her across the pond to her aunt's B&B in Winchester, England, for the summer. Soon she is cooking for the whole B&B, exploring the local music scene, making new supportive friends, and growing very close to the tea shop clerk, Orion Maxwell. Orion is not new to grief and is the empathetic and caring shoulder Lila has been hurting for. Together the two navigate their own grief and come to accept what they cannot control while finding the courage to influence what they can, while maybe falling in love along the way. 
Perfect for a book club of young adult readers whose idea of a perfect fall afternoon is curling up under a blanket with a good book. Despite centering on grief, A Cuban Girl's Guide to Tea and Tomorrow is not a sad story. It gives the reader space and permission to learn how to feel their emotions without letting them consume everything. Discussion questions with your book group can focus on emotions, Cuban culture, and how interpersonal relationships play an essential part in our lives and keep us healthy. If you're leading a group of young readers, be careful when discussing the prevalent diet culture in this book. Despite what the characters might say, you don't need to "earn" a snack or have to "work off" a baked good. Food is nutrition and life. Feel free to explore Cuban food's wonderfully rich culture and how it can bring families, friends, and even strangers together without feeling "guilty" for enjoying it! So grab your favorite tea and a warm jumper, and dive in!
If you're interested in requesting this book for your book club, you can find the Book Club Kit Request Form here. (Items must be requested by a librarian)
To see more of our Hispanic/Latino book club titles, visit the link here.
Namey, Laura Taylor. A Cuban Girl's Guide to Tea and Tomorrow. Atheneum Books. 2020.