If you have been looking for ways to get started with 3D Design and career exploration, this 3D Room Design Activity is for you! Learn how to use TinkerCAD & Thingiverse on next week's NCompass Live webinar on Wednesday, March 30 at 10am CT.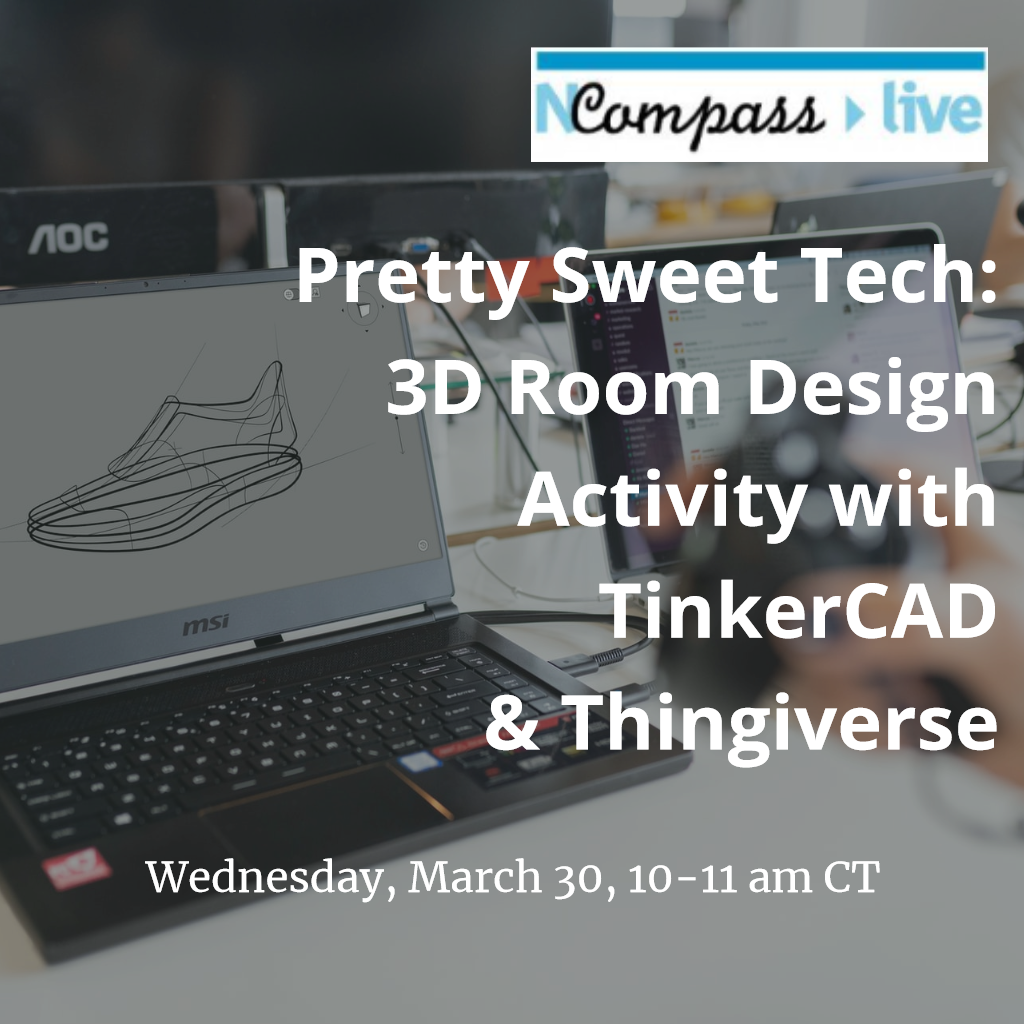 Special monthly episodes of NCompass Live! Join the NLC's Technology Innovation Librarian, Amanda Sweet, as she guides us through the world of library-related Pretty Sweet Tech.
This is a free set of activities I put together because I've been getting questions about how the metaverse is creating and changing jobs, and how kids and adults can learn these new tools. Here's what we will talk about in this webinar:
Introduce the VR, AR & Room Design Lesson Plan series for career exploration (adaptable for ages 12 to adult). I put it together, so it's free!
Demo of building a room in TinkerCAD.
Overview of AR, VR & 3D Design tools for both classroom and everyday use for all ages.
Overview of careers impacted and created by AR, VR & 3D Design
This activity can be adapted to ages 12 to adult to introduce new tech concepts, explore career opportunities, or brainstorm new community innovations. I hope to see you there!
Upcoming NCompass Live shows:
April 6 – Expanding the Health Information Landscape In Your Public Library
April 13 – Tweak Your Library's Social Media
April 20 – Starting a Board Game Club at a Small Library
April 27 – Pretty Sweet Tech – The 40 Day Challenge Initiative
For more information, to register for NCompass Live, or to listen to recordings of past events, go to the NCompass Live webpage.

NCompass Live is broadcast live every Wednesday from 10am – 11am Central Time. Convert to your time zone on the Official U.S. Time website. The show is presented online using the GoToWebinar online meeting service. Before you attend a session, please see the NLC Online Sessions webpage for detailed information about GoToWebinar, including system requirements, firewall permissions, and equipment requirements for computer speakers and microphones.