From the Wizards of the Coast description of Heroes' Feast: The Official D&D Cookbook, by Kyle Newman, Jon Peterson, and Michael Witwer:
"80 recipes inspired by the magical world of Dungeons & Dragons – perfect for a solo quest or a feast shared with fellow adventurers."
This cookbook "invites fantasy lovers to learn about their favorite fictional cultures through their unique cuisines and lifestyles. With this book, you can prepare dishes delicate enough to dine like elves and their drow cousins or hearty enough to feast like a dwarven clan or a boisterous orcish horde. All eighty dishes – developed by a professional chef from one of the country's top test kitchens – are delicious, easy to prepare, and composed of wholesome ingredients readily found in our world."
Being long-time D&D players, my husband and I just had to have this cookbook. Sometimes you take a risk with these themed books. But, in this case, it was worth it.
The book is divided into six sections. First there are the five Cuisines: Human, Elven, Dwarven, Halfling, and Uncommon, followed by the final chapter, Elixirs & Ales.
Each section begins with a deep dive into that particular culture. At the beginning of each individual recipe, there is a short explanation about it or suggestions on how to use it. The writers are D&D experts, and it shows. They really know how to pull you into the realms and the fare of each of these peoples.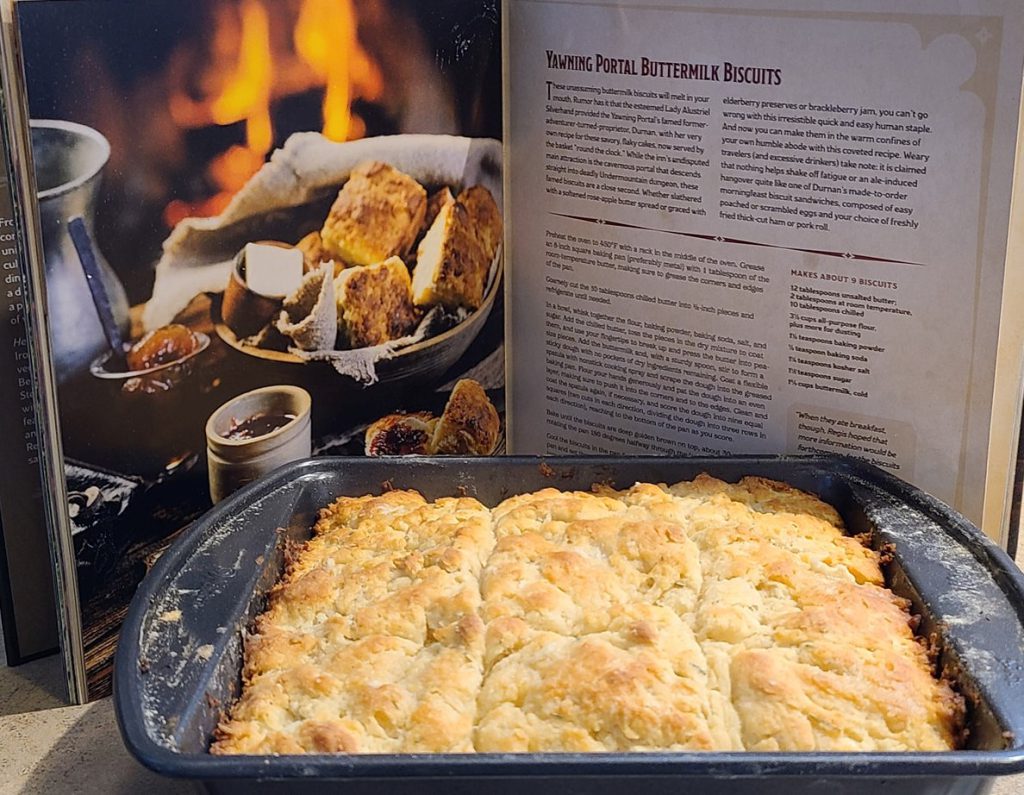 The first recipe my husband tried was the Yawning Portal Buttermilk Biscuits. This was actually his first time ever making buttermilk biscuits. And they were a huge success! Very moist and with a great flavor.
So, the recipes in this cookbook are legitimately good. I can't wait to try more!
Of course, anyone who has played D&D before will enjoy Heroes' Feast. But, with all of the lore that's included, it's also a good introduction for those who are curious about this world. So, roll your D20, grab a plate, and dig in!