Mindfulness and self-care are well-intentioned buzz terms, but, how often do we really have the time or extra energy to follow through with them? Learn some 'Mental Maintenance' tips and tricks on next week's NCompass Live webinar on Wednesday, June 9 at 10am CT.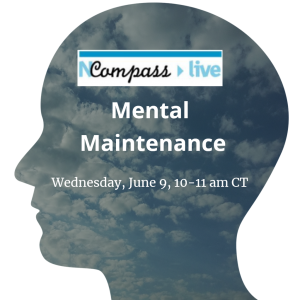 Now more than ever, keeping your emotional well-being afloat can mean the difference between surviving and thriving, and not just at work. Drawing from various sources and personal experiences, including both successes and failures, discover how one hot-headed and persnickety librarian found a slice of inner peace (and can even sleep at night). Ideas and examples for self-care and stress management will be given. Handouts will include an extensive bibliography. This session asks tough questions and addresses the stress in our lives; however, it is not intended to replace professional care and/or advice. Presenter: Jeremy Bolom, Assistant Director/Head of Public Service, Lincoln Parish Library (LA). Upcoming NCompass Live shows:
June 16 –How Do People Learn?: Teaching Technology in the Library Series (Part 2)
June 23 – Bedbugs in the Library?!
June 30 – Pretty Sweet Tech – Spatial for Librarians: A 3D Meeting Space
July 7 – History Nebraska: Taking History Online
July 14 –Finding Partners & Preparing Staff: Teaching Technology in the Library Series (Part 3)
July 21 – Accessing Census Data
July 28 –Marketing & Follow-Up: Teaching Technology in the Library Series (Part 4)
August 4 – Small Libraries Will Save the World! Implementing Sustainability at the Library
For more information, to register for NCompass Live, or to listen to recordings of past events, go to the
NCompass Live webpage
.

NCompass Live is broadcast live every Wednesday from 10am – 11am Central Time. Convert to your time zone on the
Official U.S. Time website
. The show is presented online using the GoToWebinar online meeting service. Before you attend a session, please see the
NLC Online Sessions webpage
for detailed information about GoToWebinar, including system requirements, firewall permissions, and equipment requirements for computer speakers and microphones.