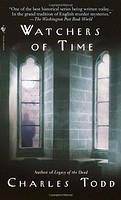 First thing I do in the library is scan the new books shelves, and last time, I picked up a title, Watchers of Time by Charles Todd (fifth in the series.) I recalled part of a review I'd read about a Scotland yard inspector who had been an officer in World War I, and had returned home, with a ghost in his mind. I knew this wasn't the first of the series when I picked it up, but what little I could remember of the review, plus the intriguing blurb, made me take it home.

This is more than escapist reading. Mr. Todd has done his research on both the after effects of World War I on both the civilian population, and the returning soldiers, such as Inspector Ian Rutledge. Hamish MacLeod, the "ghost" in his mind, was one of the men he had under him. He also suffers from "shell shock", and claustrophobia. So many of the men who returned were shunned because of "shell shock" or that the part they played in the war was not "sporting." There was still an extreme difference between the perception of war, and the reality of modern war in the civilian population.

The other thing that elevates this from the usual mystery are the wonderful descriptions of the countryside, set in Norfolk County. This section of the country is called the Broads, and is marshland, where the sea has receded & filled in with only a small tidal river. It is Autumn, but still early enough for some flowers to be in bloom. The town, Osterly, was once an Edwardian vacation town, in a small way, but when the ocean receded, the vacationers stopped arriving.

The Bishop in Norwich wishes Scotland Yard to check the work and circumstances of a priest's death. This was still a shocking event in a small town in England. Inspector Rutledge is sent to check into the progress being made in the case, and why the Bishop wants an Inspector to check into it. While everyone believes the local inspector to be competent for the job, there are still questions in Inspector Rutledge's mind. There are also some odd connections between the case and the sinking of the Titanic.
Watchers of Time; An Inspector Rutledge Mystery, Charles Todd, Bantam Books, 2001, 978-0-553-58316-8, paperback.