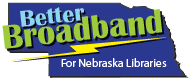 The Nebraska Public Service Commission has issued an Order establishing the E-Rate Special
Construction State Matching Grant Program (NUSF-117) as a way to help facilitate Federal Communication Commission (FCC) with the build-out of new fiber to Nebraska libraries and schools. This new grant program is designed to maximize federal support through the FCC E-rate Special Construction Program. Nebraska public libraries are able to apply for up to 10% of the total fiber build-out construction cost to the library with these grant funds. The approved state funds provide a match for the federal E-rate funds (also up to 10%) to be paid toward the fiber build-out construction cost.
The E-rate Special Construction State Matching Grant Program is a four year program with one million dollars available to library applicants that have been approved by the both the state and federal programs.
"I commend the Nebraska Public Service Commission for creating the E-Rate Special Construction State Matching Grant Program. The matching funds will be a significant incentive to help Nebraska libraries install fiber connections for high-speed internet service. Libraries that capitalize on fiber build-outs using this state and federal funding opportunity will be able to fulfill their mission of serving the public's demand for technology resources," said Rod Wagner, Director Nebraska Library Commission.
Currently about 40 percent of the 247 Nebraska public libraries report internet speeds of less than 12 Mbps.
Often Nebraska access to free Wi-fi in rural areas is located at the local public library. The library may also be the only location for many miles where a traveler or local citizen can assess a printer/fax machine or computer free. School-age children in rural communities use the free Wi-fi to use their Chrome Books and complete their homework assignments. Local citizens who do not have access to a computer a home can complete online government forms and address medical concerns with providers that offer telehealth services at their local library. The local library has a critical role in providing access to the internet in rural communities. The Nebraska Rural Broadband Task Force included in its recommendations, Legislative Bill LB-992, that Nebraska Universal Services Fund be used to provide the matching funding source for fiber build-outs to assist libraries to upgrade rural libraries' access to fiber.
The Nebraska Library Commission will host a webinar on June 18 to provide local library directors and opportunity to learn more about the grant program.
Nebraska Public Service Commission news release, PSC Initiates Grant Program to Help Bring Broadband to Libraries & Schools .
For more information, contact Holly Woldt, 402-471-4871