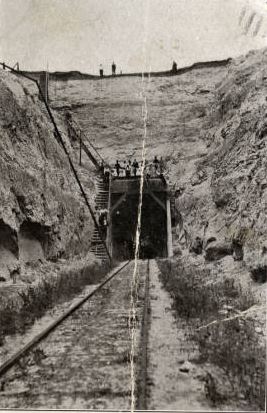 This 3-1/2″ x 5-1/2″ black and white photographic postcard shows railroad tracks leading into a tunnel. This tunnel is believed to be the Belmont Tunnel that was constructed for the Chicago, Burlington and Quincy Railroad between 1888 and 1889. Located about 10 miles south of Crawford, the 698 foot tunnel was considered a feat of engineering for its time.
This image is provided and owned by the Nebraska Library Commission. The Nebraska Library Commission's collection includes materials on the history of libraries in the state of Nebraska, mainly libraries built with Carnegie grants. The collection also includes items from the 1930s related to the Nebraska Public Library Commission bookmobile, as well as items showcasing the history of Nebraska's state institutions.
If you want to see more Nebraska history, check out the Nebraska Memories archive! It's a cooperative project to digitize Nebraska-related historical and cultural heritage materials and make them available to researchers of all ages via the Internet. Nebraska Memories is brought to you by the Nebraska Library Commission. If your institution is interested in participating in this project, see http://nlc.nebraska.gov/nebraskamemories/participation.aspx for more information.