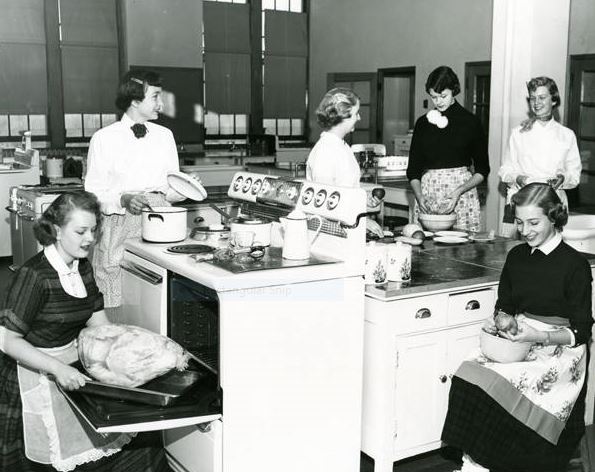 This 9 1/2″ x 7 3/4″ black and white photograph features students in a Home Economics class at Whittier Junior High School. The school, named after John Greenleaf Whittier, was located at 22nd and Vine streets in Lincoln, Nebraska. The building was built in 1923 and used until the 1970s as a junior high school. It was then used as an alternative high school until 1980.
This image is provided and owned by Lincoln Public Schools. Historical materials related to the Lincoln Public Schools have been collected and saved in some form in various offices, library sites, and schools since the inception of the first school in the county. Over the past 15 years, the Library Media Services Department has made a deliberate attempt to collect, preserve, and archive the history of LPS and make various items available to the staff and also the public.
If you are interested in Nebraska history, check out the Nebraska Memories archive.
Nebraska Memories is a cooperative project to digitize Nebraska-related historical and cultural heritage materials and make them available to researchers of all ages via the Internet. Nebraska Memories is brought to you by the Nebraska Library Commission. If your institution is interested in participating in this project, see http://nlc.nebraska.gov/nebraskamemories/participation.aspx for more information.