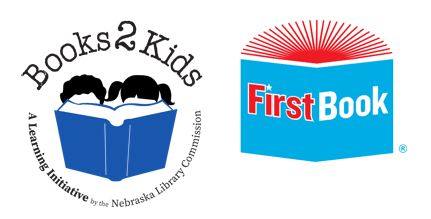 Contact:
Christa Porter
402-471-3107
christa.porter@nebraska.gov
Melanie Boyer
202-639-0114
mboyer@firstbook.org
Nebraska Library Commission Awarded $28,000 for New Books and eBooks by Nonprofit First Book
LINCOLN, NE (December 23, 2019) – The Nebraska Library Commission's Books2Kids Learning Initiative has been awarded $28,000 for new books and eBooks by First Book, the nonprofit social enterprise focused on equal access to quality education for children in need. The award is part of First Book's OMG Books Awards: Offering More Great Books to Spark Innovation, a program that will unlock more than $4.7 million in funding to distribute 1.5 million brand new books and eBooks to children living in low-income communities in 33 states and territories.
The Nebraska Library Commission's Books2Kids Learning Initiative will use the award to reach out to schools, public libraries, Head Start programs, and Youth Rehabilitation and Treatment Centers in Nebraska to encourage them to register in the First Book Marketplace. By purchasing books and eBooks through the Marketplace, recipients will provide children in need improved access to quality educational materials, programming, and experiences. Recipients will choose their own book and eBook titles, matching them to their specific community needs. Institutions interested in participating can visit the Books2Kids webpage to learn more.
"The Nebraska Library Commission is uniquely qualified to organize and coordinate this program as we work daily with schools and public libraries in communities with children in need. Our goal is to facilitate the improvement of educational opportunities for children across Nebraska." said Rod Wagner, Nebraska Library Commission Director.
Awardees are using the funding to select books and eBooks from the First Book Marketplace (www.fbmarketplace.com), First Book's award-winning eCommerce platform, that best meet the needs of the children they serve. Nebraska was among 12 states in the final cycle of awards. First Book estimates the total value of the books distributed will be more than $12 million.
"Education consistently ranks among the highest priorities for Americans, yet school funding is still below pre-recession levels in 23 states, and the need for resources is taking on an acute sense of urgency," said Kyle Zimmer, First Book president, CEO, and cofounder. "Educators are grossly under-resourced, especially in low-income communities, and working at maximum effort with what they have. With the OMG Books Awards, First Book is not only addressing a recognized national priority, we're also supporting educators so they can provide the best education possible to kids in need."
Access to adequate resources is one of the greatest contributors to educational success in the United States. Research indicates that just the presence of books in the home improves educational outcomes, yet low-income communities across the U.S. are plagued by vast 'book deserts'—with one community having only a single book per as many as 830 children. Additionally, members of the First Book Network, who exclusively serve kids in need, have indicated that without First Book, the children they serve would have access to very few books, if any at all. (References below).
Eligible educators, librarians, providers, and others serving children in need can sign up to receive resources from First Book outside of OMG Books Awards at firstbook.org/join. For more information, please visit firstbook.org or follow the latest news on Facebook and Twitter.
###
As the state library agency, the Nebraska Library Commission is an advocate for the library and information needs of all Nebraskans. The mission of the Library Commission is statewide promotion, development, and coordination of library and information services, "bringing together people and information."
About First Book
Founded in Washington, D.C., in 1992 as a 501(c)3 nonprofit social enterprise, First Book is a leader in the educational equity field. Over its 27-year history, First Book has distributed more than 185 million books and educational resources, with a value of more than $1.5 billion. First Book believes education offers children in need the best path out of poverty. First Book breaks down barriers to quality education by providing its network of more than 450,000 registered teachers, librarians, after school program leaders, and others serving children in need with millions of free and affordable new, high-quality books, educational resources, and basic needs items through the award-winning First Book Marketplace nonprofit eCommerce site. The First Book Network comprises the largest and fastest-growing community of formal and informal educators serving children in need.
First Book also expands the breadth and depth of the education field through a family of social enterprises, including First Book Research & Insights, its proprietary research initiative, and the First Book Accelerator, which brings best-in-class research to the classroom via relevant, usable educator resources. First Book Impact Funds target support to areas of particular need, such as rural communities or increasing diversity in children's books.
For more information, visit firstbook.org or follow the latest news on Facebook and Twitter.