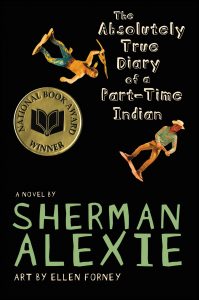 Sherman Alexie's The Absolutely True Diary of a Part-Time Indian was banned or challenged in several communities. ALA's Banned Book Spotlight quotes a complaint from one of the challengers, highlighting "shocking words of profanity, sexual innuendo and violence". A reviewer on Goodreads recommends the book for older audiences because she is "all for letting kids enjoy their innocence for as long as possible". This book does have adult themes, including alcoholism and child abuse, with the constant bitterness of death glaring between the pages.
Parents and schools can try to ban books and protect innocent minds. However, we cannot ban reservations to protect the innocent. For many kids living in these areas, life is not appropriate for a young adult audience. What is the alternative to life? We have a theme.
How do I know about reservation life? My dad is from the Bad River Band of Chippewa in Wisconsin. I grew up hearing the myths and legends of an amazing culture. The myths are better than the reality of that reservation. Poverty runs rampant, and alcohol and drugs are the strong thematic elements that propel many people through the day. The ones who leave the reservation are challenged to change their way of life. Reservations are often a small, tight-knit community. Leaving is traitorous. Leaving can mean you are no longer Indian. It's like saying your skin changes color as soon as you cross the border. Not everyone thinks this way, and not every reservation is the same. But I've seen it often enough.
I didn't grow up on the reservation. I grew up with the aftermath. That is another story. We're here to talk about Junior, a Spokane Indian born with brain damage to alcoholic parents. He's the protagonist of The Absolutely True Diary. This is the story of how he leaves the reservation by attending an all-white rural school, 22 miles from the reservation. He hitchhikes his way to school and back, catching fire and vitriol on both ends.
Yet he is determined to break free and make change happen. I've read the book, and concur that it is absolutely true. Change can be like raking over hot coals. The humor and cartoons make the pain bearable. Humor is the collection of small respites necessary to drive change to fruition. If you want to bear witness to the truth of life, laid bare by a teenage protagonist, please read this book. Read deeply, and take the wise words of a teenage Indian living through real, thematic elements: "Life is a constant struggle between being an individual and being a member of the community".