Check out the first fire truck to make its way to Brainard, Nebraska!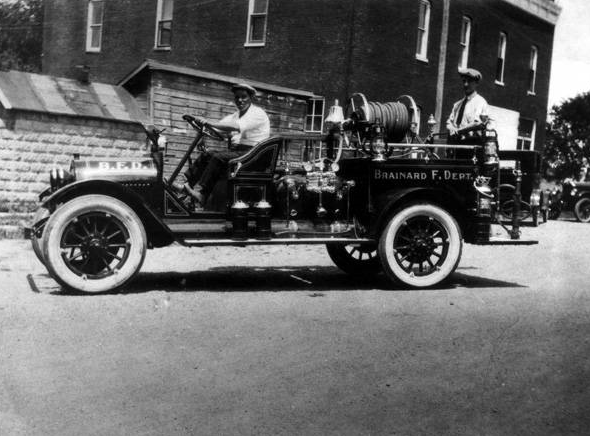 The first fire-fighting equipment to arrive in Brainard was a hose cart that was purchased in 1889. At that time, there were no fire fighters. When the fire bell rang, all the townsmen would help in any way they could.
In 1923, a meeting took place and organized a fire department. In 1925, they converted this 1924 Oldsmobile chassis with over $1,000 worth of fire-fighting equipment into the town's first fire engine.
This image is owned by the Thorpe Opera House Foundation and published as part of the Boston Studio Project.
Interested in checking out more Nebraska history? Visit the Nebraska Memories archive to see this photo and many more!
Nebraska Memories is a cooperative project to digitize Nebraska-related historical and cultural heritage materials and make them available to researchers of all ages via the Internet. The Nebraska Memories archive is brought to you by the Nebraska Library Commission. If your institution is interested in participating in Nebraska Memories, see http://nlc.nebraska.gov/nebraskamemories/participation.aspx for more information.