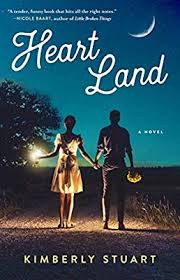 I read Heart Land to highlight this author's visit to our upcoming Nebraska Book Festival September 7th in Lincoln.  I could have easily shared this book with my mom as it fits into the genre of authors she liked including Jan Karon and Rosamunde Pilcher.  This book follows the Hallmark movie recipe of an urban woman interrupting her hectic life to return to her rural hometown. Upon her arrival, she discovers love and a new appreciation for a slower pace of life.
Such is the case with Grace Kleren, who graduated top of her class from the Fashion Institute of Technology with dreams of being a successful clothing designer.  Having lost both of her parents in a car crash as a teen, she suffered a crisis of faith. Grace is fired from her job after pitching her clothing line to the boss, and unable to pay the bills, she returns to her Iowa hometown to live with her Grandma Gigi. On her first day job hunting, she almost runs over her high school boyfriend Tucker. Happily, there are no injuries but finding a way to earn a living requires some ingenuity.
Working with Gigi, the Church Sewing Club, and some vintage fabric, Grace finds a new and lucrative way to exhibit her design creativity. A few postings on Etsy prove that others also appreciate her design aesthetic. Soon she receives national attention in an online fashion magazine and an invitation to New York. As Grace navigates the conflicts between her head and her heart, her journey is about finding her own truth and what matters most. All of this happens with the encouragement of those who have always loved her in rural Iowa, where life is less exciting, but a good place to sort out Plan B.
Stuart, Kimberly. Heart Land. Howard Books (2018)